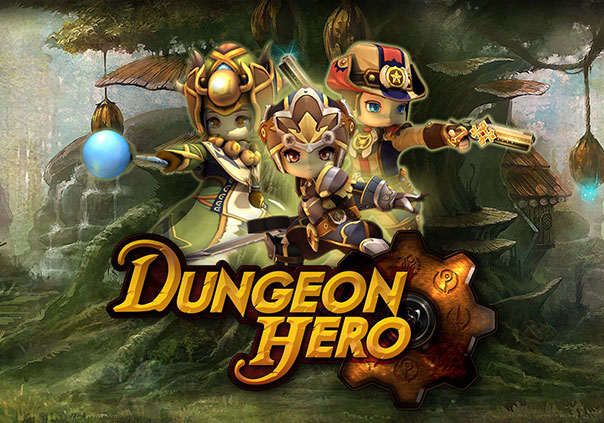 Dungeon Hero (previously launched as Hero of the Obelisk) is a free to play 3D fantasy MMORPG developed by Eyasoft for PC. Dungeon Hero features adorable anime characters that will help you become the legendary hero you've always wanted to be through numerous dungeons, intense PvP battles, and hack-'n'-slash combat.
Players will be able enjoy the thrill of dungeon-clearing content and the wonder of open world content in the same game, enabling them to swap back and forth to their heart's desire. Dungeons can be selected from three different difficulties: Normal, Hard, and Extreme. As difficulties increase the foes you encounter will become even more powerful and unpredictable. Open world content consists largely of hunting grounds where players will be able to slay monsters at their leisure, but that's not all. Interestingly enough Dungeon Hero supports a completely automated hunting system that will allow players to slay monsters without having to stay attentive.
Different types of wars can also be held in Dungeon Hero, giving players a variety of PvP options to choose from. Camp Wars will happen 8 times a day and are fought between the different camps in the game: the Koran Tribe, Elkrute, and Arc Lemah. Siege Wars are battles fought between guilds in large Realm versus Realm encounters. War Channels are PvP battles that last between opposing camps for 24 hours.
Characters can be made of one of three different classes: Scholar, Adventurer, or Swordsman. Each class offers two distinct trees with 3 class evolutions each and has their own playstyle for you to learn.
Classes:
Swordsman – Equipped with unparalleled strength and stamina, swordsmen are able to utilize various types of melee weapons for their destructive use. Depending on their specialization and the type of weapon being used, they can either be an offensive force on the battlefield or act as a stout shield, protecting their allies from the hands of the enemies.
Scholar – Scholars have devoted their entire lives to researching and learning the transcendent powers that make up the world. After years of rigorous discipline and careful practice, they now stand at a crossroad. They must choose either to accept the divine holy powers as their eternal guide, seeking salvation through prayers and healing; or find harmony with nature and the supernatural to master the art of magic.
Adventurer – Both agile and cunning, Adventurers are a mischievous class. Their insatiable curiosity to all things can sometimes land them into trouble. Depending on their chosen path, an adventurer can focus on their agility to the master the art of stealth; or become a tech-meister, capable of manipulating and transforming machinery for their own uses.

Status: Released
Release Date: Apr 14, 2016
Business Model: Free to Play
Developer: Eyasoft
Publisher: JC PLANET
Category: Stand-alone
Genre(s): 3D, MMO, RPG, Fantasy, Casual
Platforms: PC

Pros:

+ Large variety of PvE Dungeons.
+ Numerous types of PvP Wars.
+ Branching class system to diversify character roles.

Cons:

- Cash Shop.
- Point & Click combat.



Recommended System Requirements:

OS: Windows XP or later
CPU: Dual Core 2.0GHz
RAM: 4 GB
GPU: GeForce 8600 or better