*Note: This game has been cancelled or shut down and isn't available for play.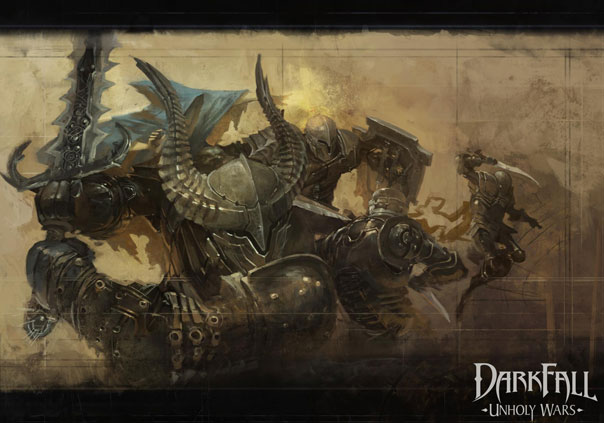 An MMO like no other, Darkfall Unholy Wars relies as much on your skill as on the choices you make. An all new user interface, built for lightning fast combat, and unique amongst MMOs, connects you to magic or melee like never before. There is no tab-targeting -battles happen in real-time- blade and spell-fests where dice-rolls are replaced by your own cunning and guile. From heroes and warlords who have mastered many of Agon's combat schools to the opportunistic mercenary specialists, selling their sword or spell to the clans for a handful of gold or the thrill of a kill, all can be equally deadly in Agon – if they have the skill.
Status: Shut Down
Release Date: Apr 16, 2013
Business Model: Retail
Developer: Aventurine SA
Publisher: Aventurine SA
Category:

Stand-alone

Genre(s):

3D, MMO, RPG, Fantasy

Platforms:

PC


Editor's Score: 3/5

Pros:

+Interesting concept, persistent, player-changed world.
+Ability to flexibly change skills and powers on the fly.
+Hardcore PVP for fans of the style.

Cons:

-Horrific UI.
-Controls are incredibly clunky.
-Corpse runs are less than fun.



Recommended System Requirements:

OS: Windows 7
CPU: Dual Core 2.3 GHz or equivalent
RAM: 3 GB
GPU: DirectX 9.0c compliant NVIDIA or AMD ATI video card with 1GB of RAM
HDD: 8 GB



Description: Prepare for the most epic online battles in Darkfall: Unholy Wars. Unholy Wars delivers the fast paced, full loot player vs. player action, and the brutal, persistent clan warfare they are famous for, to a new legion of highly skilled gamers.
Planet Arkadia today announced the offering of Arkadia Underground Deeds, which will make up the world's first $1,000,000 virtual propert...
by Mikedot