Darkfall: Unholy Wars Review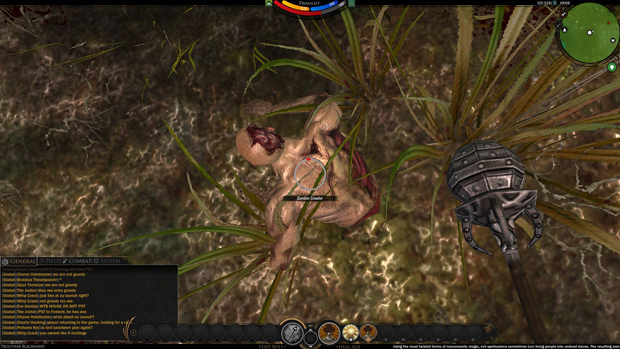 Wonderful Concept. . .
. . . Less than desirable result. Darkfall: Unholy Wars is the leviathan sequel of Darkfall, a PC PVP MMO. Greenlit by the Steam Community, this title (in celebration of its one year anniversary) gave all players, new and old, a free weekend to log on and see just what Darkfall is all about, to bring back old players, and perhaps snare some new ones. In this interesting title, you pick a race and a class that suits your playstyle. You are given a primary and secondary skillset and you pick two of the three available. It's a fairly unique concept, not seen in very many MMOS (except one of the last titles I reviewed, the alpha of Albion Online) these days.




Players can construct their own fortresses and cities, and rule there for as long as the player clans are capable of keeping it in their grasp. The game itself is level-free, similar to Albion, in that you grow stronger via "Renown." Renown is gained in doing virtually everything in the game, from chopping wood and gathering wool, to destroying the undead in graveyards. You can play this game by yourself, but it is not recommended. It would be much wiser to join a clan, and participate in their events, waging war against others. If that is not something you wish to do, I would consider overlooking this title. It is really only for the hardcore PVP gamer.


What Has Been Seen Cannot Be Unseen

One of the most horrific things I have seen in this game is the UI. If you do not do the entirety of the tutorial, you may actually wind up missing parts of the UI for your own use. Not that that is a bad thing in and of itself, but it is hard to see many things; the icons are tiny on default, and useful, important information is printed on the top of the screen in a tiny, almost 4pt font. I had no idea I was even farming wood until I glanced at the top of my screen. Progress is measured in this UI, as you can see your feats there, which show what you have done or not done just yet. Simply killing an enemy creature displays in bold letters across your screen that have you slain something; it is as if they want you to feel like it is an accomplishment, but don't be mistaken. Every kill is an accomplishment. Resulting in another oversized pop-up ad nausea. Not like World of Warcraft's huge trash packs (groups of unimportant enemies in small clumps).




The map is atrocious; this I cannot say enough. It is a blob of colors and tiny icons, a contrast from the sharp details one might see in the regular world. It is crude, and hazy, not what a map ought to be. It's terribly unclear, and if you don't click on the icons to add them to your map, you might never know where you are. The tutorial does make mention of how to do it, but I'm personally of the opinion that certain important landmarks should actually be on a map. That's why there are maps in the first place!

If you accidentally click it away, the social tab does hide something very useful. One great positive I can highlight is the Mentor system. This is a system where a new player is paired with a veteran who signs up, and they will (in theory) teach them the workings of the game. As long as student and master are both willing and able, this is a fantastic idea, as the game feels pretty complex, and there are a myriad of things one can be doing while playing.
There are positives about Darkfall: Unholy Wars. The idea of it being pure-PK may not be for everyone, but gamers in this niche will love the concept of murdering an enemy clan in thousands on thousands PVP, utterly wiping them out in order to take their hard-earned money and equipment. The thought of setting so many people back weeks and months of real game time may not appeal to you, but consider this: it is a truly ever-changing world. In this setting, cities can be started, stolen, and torn asunder. I feel that this concept's time has come. Other MMOs have tried this in the past, and not many have really succeeded. Albion is attempting something similar, but I think this is a grander portrayal, based on looks. The graphics are wholly grungy and dark, but they are fairly sharp.




But this is still, at its core, Pure Hardcore PVP. It is unforgiving and cruel, and as a new player, I would expect to die, and die often. It is highly recommended to gain membership of a clan as soon as possible, and farm a bunch of spare parts in your bank for when you perish in the meantime. There are safe havens where you may not be killed, but should you venture into the territory of another clan, or into a conflicted zone, be wary. You could be on the fast track to a corpse run; but, since they will be no doubt looting everything you own and love, it will be a trip back to the trees and brush to farm new materials.


What Is Most Important In Life?
Clans make up most of the action and excitement in Darkfall. Clans can take over an area in the world and exert their influence over it, creating a holding there. From there, you have a heap of rubble and barren emptiness, so the next logical step would be to build! Going from a hamlet to even a city, your clan works together, coming up with the correct building materials including wood, stone, and more. This of course is pending on being given the clan permission to erect structures in your clan's name. The clan screen has the list of structures you can build, and provided you have the necessary components, you can use the "edit holding" button to add on to make something unique and comfortable for your fellows to call home.

If you should decide however, that this is not enough, and your clan needs some "elbow room," or maybe they're simply angry and aggressive, you can challenge another clan to their holding. There are a series of challenges that are undertaken, and any clan that is aggressive or at war with the challenged may help; this can create some fantastic alliances, and terrific wars that take up several days of non-stop action. You can tear down walls of your opponent's hold, and eventually overtake their binding stone, holding their fortress until they are strong enough to take it back.




Which leads me to combat. Combat is brutal and fast-paced, and if you aren't prepared with both twitch skills and knowledge of the popular attacks, you could be in for a great deal of unpleasantness. Your left and right click mouse buttons do the brunt of the work, but you can use the scroll wheel to re-equip items that are in a slot on your "paper doll," on your equipment screen. There are also skills that may or may not have a cast time. Aiming can be incredibly frustrating with arrows and spellcasts, as your enemy is no doubt going to keep moving, and skillshots (aiming and firing without a guarantee of a hit) is how this game works. To keep up with all of your skills that you acquire, there is a radial wheel that you can access in game to swap skills on the fly. This is handy, as there are lots of different situations where you may want to cast spells, or use your giant axe to pound away at your foes.

There are a few combat types as well. Melee fighters have the usual axes and swords to play with. Bows and arrows offer rapid ranged fighting while those with a calm hand and trusted allies may take to the stave to cast ranged spells. If you are on a ship or boat, you can attach and fire cannons from them to blast your foes asunder. Mounted combat is also available if you have a mount of your own. Mounts can attack from the front or behind on the fly with a quick push of the "T" key.
Conclusion: Good (3/5)
This is a title that I still feel needs quite a bit of polish, despite its predecessor being out for over five years. It is going in the right direction, and I feel it attracts the right audience. There are of course, toxic elements. That is bound to happen in any MMO, but in this environment, it's not really going to be a shock or surprise. Body looting and killing is a natural aspect of the game, and it is made painfully apparent to you if you do any reading at all. So, there is no way for a player to not know unless they are purposefully misled; the Mentor system cuts back on that. Plus, with the mentor system, the person who taught the newbie is rewarded: 10% of all renown they get goes to their Mentor, so it's not like they do it for free. I do like the idea a great deal, but I feel more needs to happen here.
Graphics: 3/5
The graphics are not groundbreaking by any means. They convey the sense of hopelessness and chaos in the world, sure. But rivers of molten fire flowing next to rivers of water? That just doesn't mesh with me. I could walk less than a few paces and likely see both. Movement animations don't feel fluid in this game either. All in all, not terrible, but not award-winning by any stretch of the imagination. It feels very much as though it crawled out of 2005, or one of the earlier Elder Scrolls titles.
Controls: 2/5
I have to say Darkfall: Unholy Wars has terrible controls. Melee is not bad, and feels as good as it possibly can. But having to mouse down at shorter targets can become annoying, even if accurate. What really did me in was being a spellcaster, and firing my spell bolts from a range. It takes time to charge the spell bolt, and the movement of the staff felt incredibly jerky, and more often than not, I'd miss.
Features/Gameplay: 3/5
There is a fair amount to do in this game besides murder your fellow man. Most of it feels like it is required to get anywhere. You will farm more than you probably ever have before, even if you work in the agricultural field. This is a game that requires a lot of time investment, though the payoff usually matches the investment. One annoyance though is the AI of the NPC bad guys is really momentous. I was starting to think I was fighting an army of psychic rock piles at times. It blew my mind how I could be a hilltop or two away, and zombies would shamble angrily in my direction. It did not feel as though I could break threat at any distance. They chase, until I turn and kill them or die in the process.
Music/Sound: 4/5
Music is good, sound effects are certainly on point. The sizzling of magic, and the clank of steel on bone is fantastic. It really fits the mood of the game, I feel, to listen to the booming music of Darkfall. Even the subtle footsteps of boots upon gravel, sand, or brick differ, and I really appreciate that sort of attention to detail.
WildStar reveals new information on the game's new payment model, upcoming improvements to the game experience, and a rewards program.
by MissyS
Sorry guys, just focusing on Patch Notes and Patch Notes thoughts this week. Whew, there's just too much to cover.
by Ragachak
Shadowrun Online launches today on Steam Early Access with a prequel to the upcoming campaign.
by Mikedot