Overview
The West Overview
The West is a browser based game that's set in the American Wild West. New players begin their adventure with no cash or skills and must hit up the local salon for odd jobs to earn a living. A step by step tutorial teaches beginners how to duel, pick tobacco, and navigate the interface. Quests provide additional cash and skill points to customize your character. Each character has 4 stats, 20 skills and starts as the default Greenhorn class. At level 10, players chose between four class types, each with 4 archetypes. The classes are:
Adventurer - Trapper, Wanderer, Indian, Prospector
Dueler - Bounty Hunter, Gunslinger, Bandit, Hangdog
Worker - Cowboy, Quaker, Craftsman, Mortician
Soldier - Cavalryman, Mexican, Mercenary, Iroquois
The West Screenshots
The West Featured Video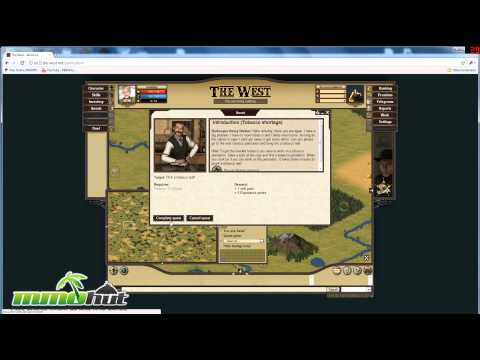 Full Review
The West Review
By, Erhan Altay
The West is the second browser game to be published by the German game publisher InnoGames. Their first title, Tribal Wars, is a medieval empire builder where players manage entire cities. The West takes a completely different approach and puts players in control of a single character trying to make a living in the American Wild West. Like most browser games, The West is thin on gameplay features and only requires short bursts of maintenance throughout the day.
Westward Ho!
Account creation in The West is a simple process requiring only a valid email address and inputting your preferred account name and password. Alternatively, players can log in using their OpenID username. I haven't read much about OpenID but the idea behind it seems practical, a shared login you can use across the internet. This is the first MMO I've seen that utilizes it but it may soon become the norm. There's no need to worry about character creation since all players start as the generic Greenhorn class with a somewhat goofy default avatar. The only thing to keep in mind while setting your account up is which of the 9 game worlds (servers) you're signing up on. Players can only have one character per server with no interaction between worlds.
Learning the Ropes
When players log in for the first time, they'll be greeted by Todd O'Reilly whose dialogue boxes serve as the game's tutorial. The main screen in The West is a map overview with links to six other locations on the right and left. New players are encouraged to follow the tutorial step by step to learn the game basics. The 'Quest' tab to the left takes players to the Saloon which has four NPCs to interact with. Henry Walker the barkeep is the first man to talk to since he has many tasks available for newbies. The first quest labeled introduction involves dueling a NPC. Duels are composed of eight rounds in which each participant performs one defensive and one offensive action per turn. These actions are selected prior to engaging and play out by themselves once the duel begins. The next step of the tutorial requires players to go pick some tobacco. It is here that the main gameplay element in The West is revealed — waiting. When you start picking tobacco, you'll have to wait for the timer to run its course before moving on to a new task. The rest of the tutorial goes on the explain other tasks such as "scaring of birds", "tending sheep" and "stream fishing" but each is identical to the other except with different skill requirements.
Of Stats and Skills
While appearance customization is nonexistent, players are free to customize their character's growth in a variety of ways. Each level players receive 3 skill points and a single stat point to distribute. Strength, Mobility, Dexterity and Charisma are the four stats and each strongly influences five skills which can be ranked up. Certain skills must be trained before taking part in certain activities, for example the skill 'swimming' is required before stream fishing. Besides gaining levels, which is a slow process in The West, players can gain additional skill points by completing quests. Because of both the cash rewards and bonus skill points at stake, I recommend going from one quest to the next. These quests are the only sense of direction in The West anyway so there's no point in ignoring them.
Earn Your Keep
The West is not the most complicated or impressive browser game available, it lacks a true graphic world to explore but the presentation is still much more appealing than text & image only games like Gladiatus and BiteFight. There is also quite a bit more depth to The West than most browser games. While all players start as the basic Greenhorn, they can chose from four new class types upon reaching level 10. Each class has its own advantages, for example the starter class has a 150% bonus to movement speed across the map. This is fortunate since the game requires quite a bit of running back and forth between tasks. It can be quite frustrating to be asked to pick some berries which are 20 minutes away. Luckily, the browser tab displays your most current timer so you can keep tabs on the game while browsing other sites. Free players can only queue one additional action which is helpful but still requires players to check in quite often if they want to keep progressing. Besides the ability to challenge other players to duels, the main late game attraction in The West is the ability to join or found your own player run city. Unfortunately, it is very difficult for free players to stay competitive with those willing to pay due to the range of premium benefits on offer.
The Rich Get Richer
Cash is the main in-game currency but players must spend real greenbacks to acquire nuggets, the game's premium currency. These nuggets are available for sale at a rate of 27 – 60 cents each depending on how many you order at a time. They can be ordered in amounts of 5, 10, 20, 40, and 100 with discounts given for larger purchases. Besides the standard payment methods including Paypal & credit cards, players can use their home phone or cellular text messages to buy nuggets. There are four premium bonuses available in The West, each costs 5 nuggets and lasts 14 days. Keeping all four bonuses active concurrently will run you about $10 a month and grant you the following benefits: 150 max energy (tasks cost energy), +50% energy regeneration, +2 queue slots, +50% wage increase, increased value of item rewards, +50% chance to find items, and twice your standard class bonus. Even with these heavy benefits, it is still possible to enjoy the game for free but balance does become an issue for competitive players. There are plenty of casual players that are willing to take things slow and even roleplay in-character on the official forums which can be quite hilarious to observe.
Final Verdict: Good
With detailed skill/stat distribution, varied class choices and a unique battle system, there is plenty to keep players interested in The West. The fact that most of your time will be spent moving from place to place doing mundane chores give the game a single player feel.
Screenshots
The West Screenshots
Links
The West Links
The West Articles