World of Tanks: Mercenaries Gets Set For Exciting Mecha Action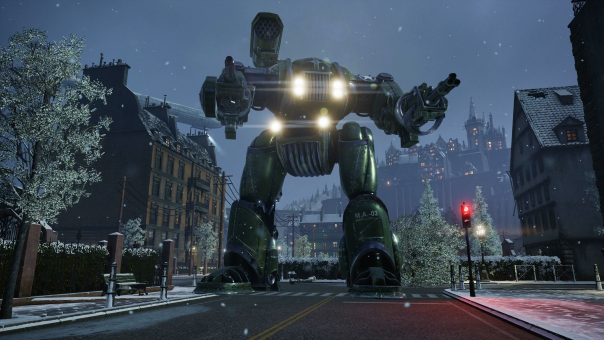 World of Tanks Mercenaries gets ready for an exciting new limited mode for PS4/Xbox One. Arriving at the end of January, mecha action is coming with Core Breach. Huge mecha will take to the battlefield in this mode, from January 29th until February 4th. In Core Breach, players will be able to swap out their tank for massive titanium titans to duke it out in 4v4 deathmatches. Beginning January 29, pilots can start clobbering their way to victory in one of two mechs: the gigantic US Iron Soldier, or the sleek and deadly USSR Steel Comrade. Each mech is equipped with lasers, missiles, machine guns, and a whole lot of health. Shoot and crush your way through the snow-covered Old River City map and its plethora of destructible environments, then decimate all opposing mechs to reign supreme. When a Mech is destroyed though, a "core breach explosion" happens, capable of leveling city blocks, and your own mech as well. This is a fun call back to the beginning of Wargaming Chicago-Baltimore (formerly Day 1 Studios), where some of the key talents behind the hit MechAssault series came together.
Elsewhere in the World of Tanks, the Winter Games have begun! This new event encourages players to fight to earn daily, monthly, quarterly, and annual rewards by earning points through in-game Ops. Winter Games Bravo, the second phase of this event, starts on February 1. Players who complete it can look forward to a hefty discount on a new Premium tank, the electrifying Thunderbolt!
This month also sees the launch of some new tanking heroes to give a boost to your armory! Fans of German engineering can spearhead their assault with the Javelin Krupp-Steyr Waffenträger, a new Tank Destroyer that won't fail to hit its mark. This metal hero is kitted out with welded-on spaced armor, keeps a stealthy profile, and can dish out punishment with a quick and accurate gun. Coming on January 28, the Skullcap is the newest original Premium Mercenary vehicle to join the roster. This hellraising tank mounts a gun which handles like a dream while on the move, and with armor specifically designed to counter flanking attacks and a fast-firing gun on hand, it provides awesome frontline support.
Riot Games is building a direct network for League of Legends traffic in North America.
by MissyS
"Herofall" contains 275 additional cards, including 18 legendaries, and adds new mechanics which embellish and expand on the game.
by MissyS