Wizards of the Coast reveals new details on Magic: The Gathering Arena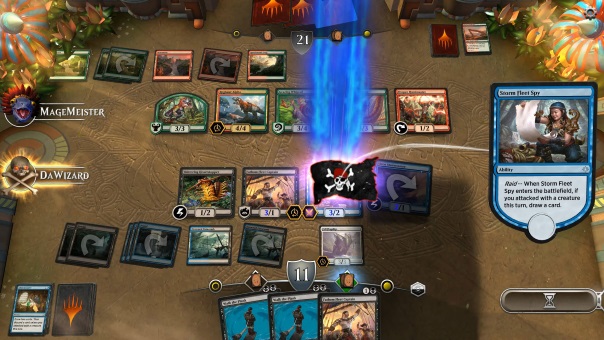 If you missed the livestream for Magic: The Gathering Arena, fear not, because we have a few of the most important bits here! Next month there will be a Stress Test (it does have an NDA attached) and some select Play Dates, that take place from Nov. 3rd through Nov. 29th! A link at the bottom of this will lead you to signups. Every Ixalan card will be available to playtesters, so they don't have to grind for them to give better data all around. They'll also be adding some key cards from Kaladesh and Amonkhet. But the good news is that if the Stress Tests/Play Days go well, the Closed Beta could start as early as November 30th! This will be a very small sampling though, so don't be discouraged if you don't make it in. When the Closed Beta starts, players who participated in the stress test, play days, or the alpha will be invited back. Then invites will go our more frequently, based on server requirements/capabilities. An NDA will remain in place as they continue to work on the Beta, but it will be lifted as soon as they feel it's ready. There is also a small Q&A for you, if you need some extra information:
How do I know if I'm selected for early testing or Closed Beta participation?
We'll send you an email invite letting you know if you're selected. The email will give you all the instructions you need to participate. The email should be coming from Wizards Customer Support (wizardscusthelp@wizards.com). It's a good idea to make sure you mark our email address as safe so your invite doesn't get stuck in a spam or promotions filter.
How many players do you plan to invite for the stress test and play days?The number of players we invite for each playtest will be based on our testing needs. We do expect it to be smaller pools of players in the thousands, rather than the hundreds of thousands.
How often will you send out player invites during the Closed Beta?
Invitations will be sent out in waves based on the actual start date of the Closed Beta. Keep your eyes peeled on @MTG_Arena, where we'll update you when a new wave of invites goes out.
Why is there an NDA during the Closed Beta?
Players will be experiencing an early version of the game. We want to continue to test features with our Beta players and make a few more refinements first before we open it up to the public. We'll remove the NDA as soon as we are ready and let you know via email.
Why is the Closed Beta PC-only?
Offering MTG Arena on PC during Closed Beta gives us only one platform to worry about, plus the ability to push out updates when we want. That means we'll be able to make updates more frequently and expeditiously when issues arise and big new features come online.
What game modes will be available during the playtests?
The experience will be best-of-one Constructed matches with all Ixalan cards. All players will be provided with Ixalan cards to build decks and battle against others.
How about game modes at the Closed Beta?
Alongside best-of-one ranked and Constructed matches, there will be a few other things we'll be trying out as we get closer to November 30.
How long will the Closed Beta last?
We haven't determined an end date yet.
Do I get to keep all of the cards I get during Closed Beta?
No. We need to test our in-game economy and features, which will require account wipes. Because of this, we are planning to wipe all player collections more than once during the Closed Beta. We'll provide more details once we get closer to any account wipes. MTG Arena's economy will allow you to purchase virtual currency for real-world money. Rest assured, if you purchase virtual currency and we wipe your account, we will credit your MTG Arena account back the virtual currency you purchased.
When will an in-game economy be added during the Closed Beta?
In-game economy elements will not be present the first day of the Closed Beta. Expect to have a deeper look at this later, including how to acquire your favorite cards.
When will Draft be added during the Closed Beta?
Draft won't be available at the start. But expect more details on this later.
Next Article
The side-scrolling MOBA, Hyper Universe is officially in Early Access! It will be free to play when it goes live, but Early Access is now.
by Ragachak
Destiny. It has been both lambasted and heralded as greatness, as Metacritic scores can attest.
by Ragachak