Winning Putt Hands-On Press Preview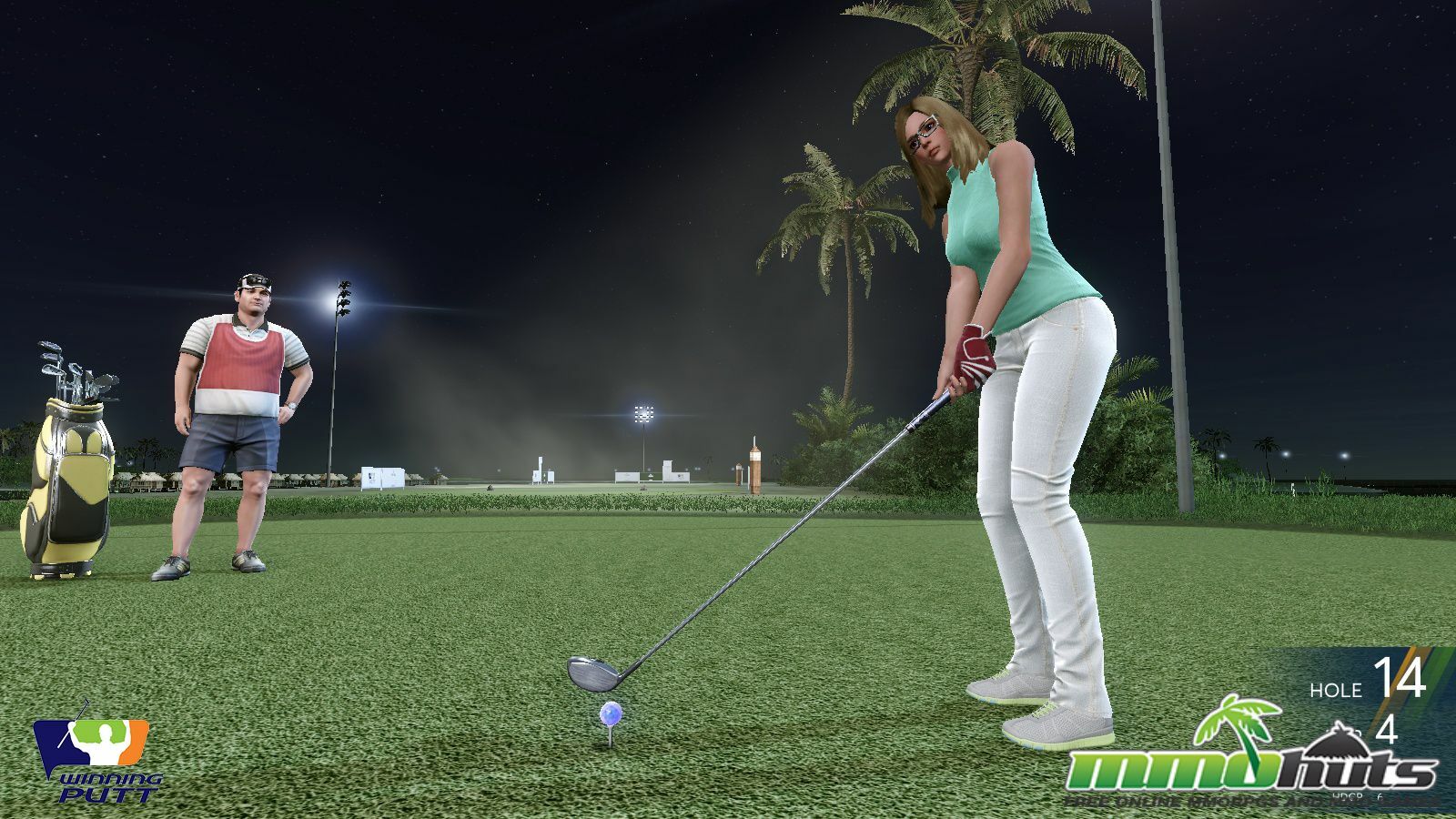 Author: Tyler Wood (Zelus_Craft)
Co-written by Mike Tang.
When was the last time you played a round of golf? Well, your answer may change since Bandai Namco & Webzen Onnet has just unveiled their upcoming Free to Play MMO: Winning Putt.
A couple of days ago Bandai Namco and Webzen Onnet announced their new golfing MMO, Winning Putt, to the press at the Presidio Golf Club in San Francisco. The evening started out with a fast paced rundown about the tech, goals, and plans behind the game, which then followed-up with some hands-on time at various demo stations set up around the clubhouse. We got our hands-on demos that featured the main mechanics of the game, focusing on three aspects: Customization, MMO functionality, and the core golfing experience.
Customization – Wow.
Starting off, every player needs an avatar – and boy, you can really make an avatar. Winning Putt has a character creation suite that's somewhere between the lines of The Elder Scrolls V: Skyrim and Black Desert. There's a ton of freedom in the customization of the face and hair, and quite a few options for other characteristics like physique and body type. Presets, sliders, color palettes – if you want it, it's probably there. If you want to recreate yourself within the game, or anyone else, then you'll certainly be able to do so.
True to real life, there are hundreds of pieces of golfing attire to choose from that will change how you look. Gloves, shoes, pants, vests, sunglasses, hats, jewelry…the list goes on. Additionally, there are caddy bags, club finishes, and even special effects for your ball and celebration emotes. Almost all of the customization relates to the business model and MMORPG aspects of the game – but more on that later.
MMO…ish? Huh? What?
Just running down the MMO features list, Winning Putt ticks almost all the boxes: There are guilds. There's enchantments and crafting. There's a skill tree and leveling system. There are consumable items and buffs. There's PvP, betting, and leaderboards. Almost every piece of attire has stat modifiers attached to it. Quests and challenges are… somewhere? But most important of all: You can mindlessly jump around vendor NPCs in a plaza while you wait for another round to start. The only MMO features that seems to be completely missing are an auction house and mounts (golf cart expansion anyone?). That said, Winning Putt really is an MMO, but it feels…weird.
What we mean by that is Winning Putt has all of the features of a typical MMORPG, but they're not really flushed out at the moment. Elements like crafting and guilds are paper-thin bare essentials of what they can be. For example, guilds don't have private clubhouses, banners, or any other visual customizations and the crafting system doesn't seem to have anything beyond adding power, range, or accuracy buffs to clubs or attire. Even the base run speed around the plaza is slow, and walking is super-duper slow, akin to what players experienced in the lobby of another recent Bandai game, Xenoverse. Right now, the MMO sections of this MMO are just not quite there yet… but I suppose that's what open betas and iterative development cycles are for nowadays.
The Core Golfing Experience – Playing the Course
The primary modes of the game, inspired by over five centuries of play, is where Webzen has spent the most of their time and care. In our hands-on time we think it's looking pretty good – mechanically speaking. The simple and effective combined power and accuracy bar provides excellent visual feedback for nailing shots, and hitting both with timed spacebar whacks feels great. Sound effects are spot on, and the aiming of shots against the wind, terrain, or other natural obstacles is well handled.
Not everything here is perfect however – some pieces are missing like animations of characters moving between shots, an audience or any wildlife whatsoever. Various narrations like "Fairway" or "Nice approach" aren't what we would describe as 'crisp' either. The act of playing golf is pretty faithfully recreated in the 3rd person; the fundamental gameplay is solid, course look good, but it just needs a little more.
Polish
At the live event it was heavily emphasized that the core experience of playing golf is the primary focus right now, and there are lots of plans to improve all of the other aspects of the game (ie. pretty much all of the MMO bits). On a technical level everything we saw and experienced was functional. Sound-wise things are pretty cohesive, except where wildlife and crowd ambience is lacking. Graphically it's pretty to look at most of the time, and does so running on the powerhungry Cry Engine. Lots of environmental textures looked flat in the plaza area, but the lighting and detail on characters and terrain geometry is pretty impressive (especially the grass). Basically, Winning Putt is a little under Par, and hopefully will improve in time for the planned Q1 launch.
Future Ideas – Far Reaching
Webzen Onnet is designing and building the game out with the core golf gameplay and theme in focus, but that's not to say that they're taking things too seriously. While at the event we previewed an alien planet themed course and saw lots of footage where special effects like lightning and fire were used to power up the range and accuracy of strokes. There are lots of cute, whacky, and highly unrealistic customizability options available to players in the form of avatars, attire, and special items too. Unique gameplay modes are coming soon like a feature titled "Speedrun Mode" that will allow up to four players to play a course simultaneously and race like madmen to the finish (as opposed to taking turns like normal people). These aspects, and many more, are on the way, and again, hopefully some of them will make it in time for the launch.
Open Beta – Open for Business!
Like other Free to Play titles, Winning Putt features an in-game store where you can exchange real money for a premium currency – platinum. Some items, like founders packs, can only be purchased with platinum, but everything else can be bought by using the gold currency which can be earned by leveling up, completing challenges, and playing well. Of course, like with other games in beta, exchange rates and item prices are subject to change in the near-future.
With all that said, if you're looking for a free golfing MMO that isn't going on ten years of age, there isn't much choice on the fairway. For more details or to sign up for beta, be sure to check out the official website that just went live this morning.
Next Article
Publisher R2Games and game developer "Gameguyz" has just launched their pixel-style browser MMO into open beta. Magic Barrage is a n...
by Mikedot
I Got Games (IGG), maker of critically acclaimed mobile and browser games, has released a trailer teasing new content for its most famous stra...
by Mikedot
This year's Dota 2 The International tournament has begun its main event, running from August 3 through August 8 in Seattle.
by MissyS