SteamCraft Begins Their Open Beta Testing Phase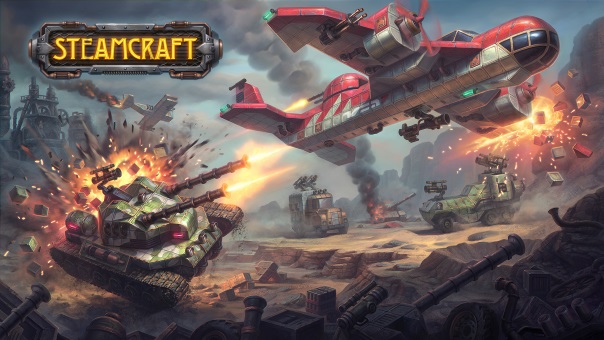 LastLevel Studios announced this morning that the Open Beta for SteamCraft has begun, and will last until February 8th. Interested parties can click the link below to get their beta key to participate. This version of the beta only includes one map and there are a limited number of spare parts with which to craft your vehicle. Upon launch, there will be plenty of maps, parts, and other content to explore, however. The beta keys will deactivate on February 8th though, and the game will be temporarily unavailable.
In SteamCraft, players create terrifying steam-powered monstrosities and use these vehicles to do battle with other players, whether it's on land or in the air. There are no limits imposed on what you can build, provided you have the parts for it. Every battle will take place in a randomly selected location, so it's key to be prepared for anything. Your objective: destroy anything that moves. Victory yields rewards, and the ability to make your vehicles even more insane. SteamCraft will be available on Steam.
Features:
Advanced construction system that lets players create truly unique combat machines. Fight on land and in the air!
Over 600 construction components and over 40 weapons.
Realistic damage model: destroyed parts fly off of the vehicle according to the laws of physics!
Multiple gameplay modes, including deathmatch, team deathmatch, and capture the flag.
Exciting special effects, dynamic gameplay — that's SteamCraft.
Next Article
Canadian developer Digital Extremes' next update for Warframe on console is coming next week, Shrine of the Eidolon.
by Ragachak
For those that joined us in our excitement for the coming launch of Fighters' Club, we've received news of its closure.
by DizzyPW
Corsair today announced a partnership with eSports organization Team Dignitas to collaborate on the next generation of Corsair Gaming products...
by Mikedot