SMITE Pro League 2019 / Mid-Season Invitational Thoughts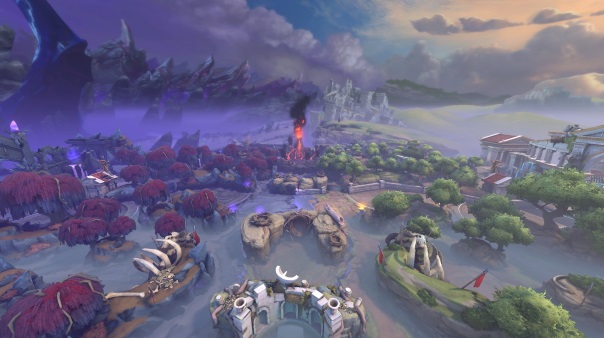 Editor's Note: There's also a giveaway, to be found here!
The SMITE 2019 Mid-Season Invitational Begins today (July 8th, 2019) and runs until July 11th, 2019. This is a huge event, not just because this season has been absolutely insane. This is also the first professional crossplay tournament in Smite history and is a huge step forward in online gaming just as a whole. This tournament will be held offline, so there's no room for someone talking about ping or lag. It's all going to come down to skill, and only the best teams from the SPL, SML NA/EU, and SCL from this first phase of the competition will be represented. Fourteen teams have been invited, but only one can take the top spot – a share of 200,000 USD! Now personally, I've only really kept up with the SPL, because let's be honest – there are only so many hours in the day. But you can watch these matches over on Mixer, in the link below. This has been an insane year of SMITE, and we're only on Phase 1! I've been fortunate to be able to catch all the matches this year live except for maybe one set, and I don't have enough time in this column to talk about all of it.
But there are two sets of matches, the Play In, and the Main Event. The Play In will feature SML (Smite Masters) and SCL (Smite Console League) in single elimination, best-of-three matches. Two of these teams will advance forward. The Main Event will have six SPL teams and the two Play In teams. These will also be single elimination (as F. I'm sure loves to see, Best-of-Ones), but Quarter Finals and Semi-Finals will be Best-of-Three. Finals will be a Best-of-Five slugfest between the best of the best. It's also important to note that Olorun is disabled, and they will be playing on Patch 6.7. Today, we'll see the Play In matches, with their finals being held tomorrow (July 9th). But after the finals of the Mid-Seasonal, that's not the end of things – then the Smite teams play for pride during the Splyce Invitational! Four Captains from the 2019 MSI qualified SCL teams get to pick up a squad in a Snake-style draft. Layers Slays, DineOhSaw, JustLion and Matt Koiz will be picking up teams for this series of battles. While those are sure to be a ball, let's talk about the main event.
So who are the teams that made top six in the SMITE SPL this season? From 1st to 6th, it's Rival, Dignitas, Pittsburgh Knights, eUnited, Splyce, and the Renegades! Could this be Rival's year to shine (finally)? I know I predicted it last year, but I stand by it. I think Rival is going to without a doubt stomp their way through this field. Going 8-1 in Phase 1 is no mean feat, especially in this field of some of the best Smite teams of all time. Rival is a team of absolutely wacky team comps, and it serves them well to always have something new and exciting in their back pocket. Now, I'll miss AlphaJackal's coaching on Rival, but I stand by them having an unbeatable team. Could things have been different this season, if the Renegades were here the whole time? Perhaps. The Renegades missed their first several weeks of gameplay, thanks to VISA issues, but this European powerhouse of a team iRaffer, Funballer, Dardez, Cherryo, and Nika are incredible when they're all on the same page. Unfortunately, they missed much of the season, but still managed to come back and make certain they could take place in the Mid-Seasonal. That is all I have to say about how powerful of a team they are – with weeks of matches missed, they showed up and made other teams look free.
It's very hard to pick a team in this landscape, because not only are those teams all amazing, but a few of the SML/SCL teams get a crack at making their mark! Here's the question I have though – Will the SPL teams take those "lesser" leagues lightly? Will there be some kind of humongous upsets in these brackets? I think there is certainly a possibility of that. The SPL teams are the best of the best on PC, but there is a lot of pride (or ego, if you will) within a few of those squads. Not to call anyone out, but it's there, and if they disrespect the Console/Masters, some of those SPL teams could come out on the losing end. Now I personally don't know a lot about the SML/SCL teams, but if they made it this far, they deserve to be there. Don't take that as "non-SPL teams won't win, unless they're underestimated", because I don't think that's the case at all. I do think that most of the SPL teams have more experience in this kind of must-win environment, so they are less likely to crack under the pressure.
But that's my job, to pick who I think is going to come out on top, and who is going to have room to grow and improve! But damned if it's not a difficult ask of me. If I had to pick the teams that I think are going to show up and do the most work, then that's exactly what I'm going to do. I'm going to pick Rival, Dignitas, and Splyce in that order for top three. Why Splyce instead of EU, Pittsburgh or the Renegades? It's been a kind of rough season for Splyce, and I think they have a lot to prove. Baskin, Screammmmm, Venenu, CycloneSpin, and Aror are among the best, but they just barely made the top 6 in my eyes. They just need to get on the same page and show these other squads what they can really do. Part of why I pick Rival to be the top team is admittedly because they're my favorite team, but PBM, Arkkyl, PandaCat, CaptainTwig, and fineokay are just on top of the world right now.
Come on, don't act like fineokay didn't blow you the hell away this season! They never give up, they have tons of off-meta decisions, and they work phenomenally as a team. Dignitas is a team that is honestly just always great. Trixtank is one of my favorite supports playing right now, and Variety is an unstoppable dunking machine. QvoFred, Hurriwind, and Ataraxia are no slouches either. What makes Dignitas stronger I think, is that they only added two members to the squad, in Ataraxia and Hurriwind. Splyce started off with the same squad but lost Cyno and moswal in May, and Divios in June, making their roster incredibly volatile. So it's up to them to prove that they have what it takes, despite change after change. I have plenty to say about Phase 2 though, but we'll save that for another time. So all told, here's what I think is going to go down in the top three, and the two teams I think could make it to the Main Event.
1st: Rival
2nd: Dignitas
3rd: Splyce
Play In Teams:
Hype Unit
Nemesis
Next Article
Daybreak has announced that it will be shutting down the service for Dragon's Prophet in North America.
by MissyS
The new Galactic Starfighter expansion is a 12v12 game mode entirely focused on getting your ground character into a custom ship of your makin...
by DizzyPW
Elysium, the 12th expansion for PWI, is now available - along with a Steam client.
by MissyS