SMITE Amaterasu Goddess Review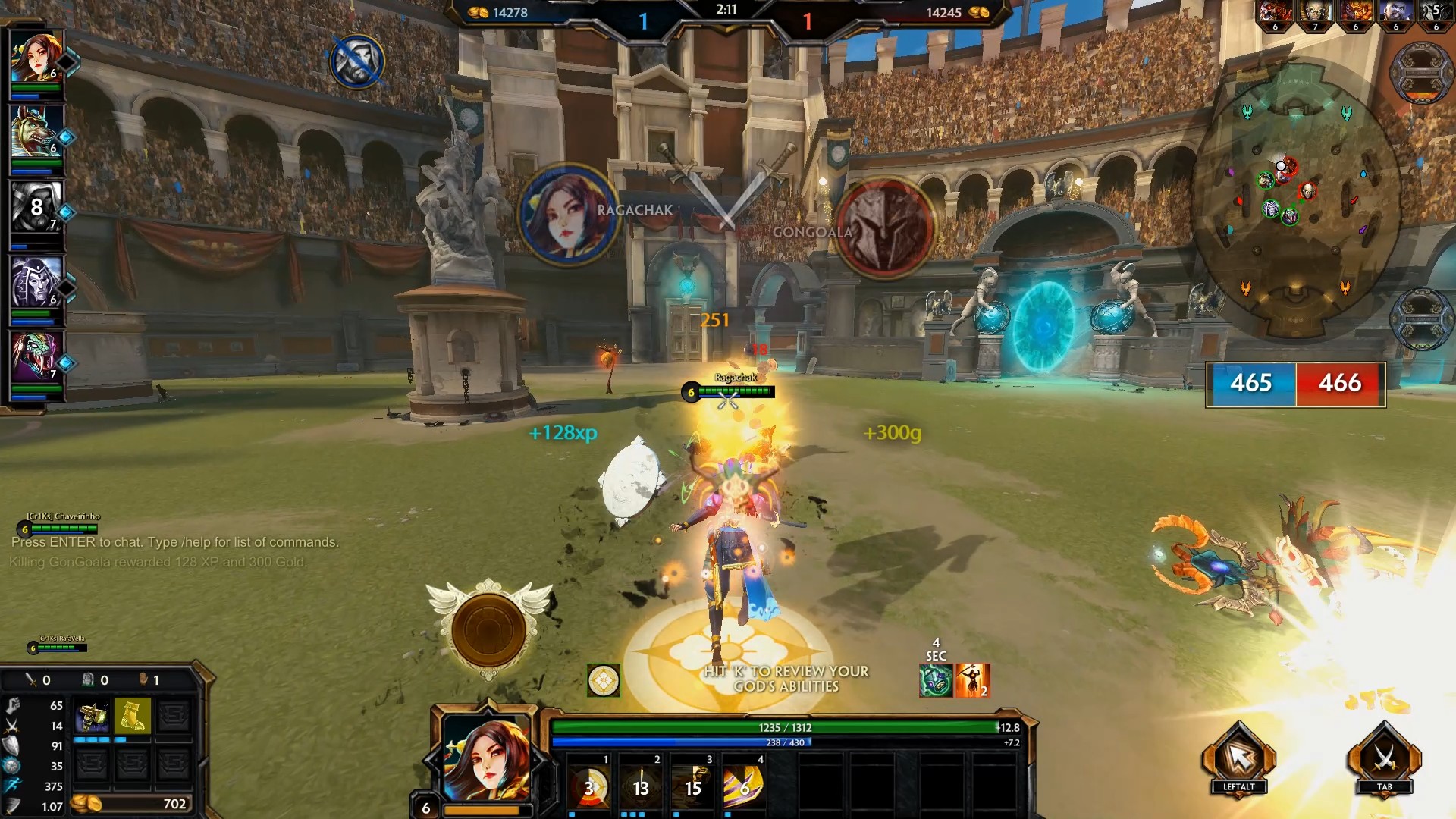 Last week at Smite Worlds, we got a sneak peek/play of Amaterasu, the first of the Japanese Pantheon, and Herald of the current Rising Dawn event. There are some pretty cool skins and chests to come out of it (and another tooth rotteningly sweet "Kawaii" skin. . .). A lot of love and work was put into Amaterasu, as the first of her pantheon, but in general there is a pretty good deal of research and planning that goes into these Gods to make them authentic. She bears all three parts of her lore on her person: The Sacred Mirror, her jeweled necklace, and her Katana. It is interesting to note that these three items became a part of the Imperial Regalia of Japan, but that's not what we're here for!
We're here for Amaterasu, The Shining Light! She's listed as "Average" difficulty, and I can absolutely see that. She's a Melee/Warrior type, who uses dashes and heals to make herself a nuisance until she blasts enemies to pieces with a big combo. She might be a fighter, but the argument can be made that she can support as well. Her "1" is a heal that affects everyone around her, as well as giving passive movement speed and power. Combine that with her line silence and aggressive lane presence, and you have a goddess that can do equally well when forced on the defensive or taking advantage of an enemy misplay. In a solo lane, she's ferocious and can put most other current bruiser melee favorites to rest with the greatest of ease. Now that isn't so much the case with aggressive long range poke gods, though her mobility still gives her a fighting chance even in these situations. Amaterasu is a lot of fun and ultimately, I'm glad they started with her. She was the correct choice to express the unique flair of the Japanese pantheon.
Her abilities are pretty straight forward, and don't involve too much trickery or fanciness. However. . . she is outrageously mana hungry. Even in the late game I've found that a mana potion or two will go a very long way in helping me pop abilities. Her passive puts a 10% damage amplification on any target she hits three times in a row. She can have three of these auras up at once too, which spread from the original target if they get too close. This is an insane ability on any map or situation. Free damage is never a bad thing. Her "1" is basically a free potion in lane. Divine Presence is a buff that grants healing per second, and two passive buffs: Power and Movement speed. This makes her and her allies mobile, and the heal is incredible in the early phase of the game. Heavenly Reflection, her "2" ability, activates her Mirror. Please Note: IF YOU DO NOT TAKE OR DEAL DAMAGE IT WILL DO NOTHING. It is charged by hits you deal and take throughout the charge phase. You can activate it early though to shoot an orb of energy in a line. It also mitigates damage she receives while it is active. If you can charge it all the way and let the blast fly at enemies, it will chunk them! So that leads me to the next ability…
Glorious Charge, her "3" is a Dash. It moves through minions and damages them, but before she moves, the entire line is silenced for 1 second. She stops at the first God she hits or at the incredibly long max range, but you can combo this with your 2 to get a full charge off a minion wave and blast an oncoming God right in the face. It's a great positioning tool to set up her ultimate as well, Dazzling Offensive. Reminiscent of release Guan Yu's flipping halberd of doom, Amaterasu can move forward or stand still while performing three swings with her blade. The second hit deals 20% more damage and slows, while the 3rd is 40% and stuns. BUT. You have to damage something with every hit or it's a combo breaker! Thus her average difficulty comes into play as every piece of her kit is dependent on circumstantial set-ups, the same details being a double edged blade to allow your enemies counter-play opportunities. While she hits like a truck, her abilities are all very expensive. Meaning spamming your skills till you get it right simply isn't an option. So let's talk about how to build her to maximize potential.
There are two pretty popular styles of build for Amaterasu: There's the tanky/heal based build, where everything relies on the slow and pressure of Frostbound Hammer; you buff yourself via your heal with gear like Shield of Regrowth or Mail of Renewal as you keep enemies in place long enough to stack your passive. You'll basically build her like a support, with one or two damage items, such as Jotuun's or Ichaival. I've considered possibly swapping out the Ichaival for Hastened Fatalis to focus on a faster than Mercury passive stacking build as well, but as of writing this haven't had the time yet to test it in action. This is a fun build that I enjoy a great deal, but did not have much luck with in Joust. In Arena or Conquest, when I have a bigger team to back me up, it did pretty great, but if you're on a map that requires "Ruthless Aggression," there's another option. The other choice is a "Glass-Cannon" build where, while you might not live long without backup, you do absolute boatloads of auto-attack damage and use your kit to get you to whomever offends you most. Devourer's Gauntlet, Rage, Ichaival, Executioner, Deathbringer; anything to make your damage outrageous and sudden. Anytime I found this build in Joust it would pummel me in a matter of seconds if I were alone. Her damage ratios are decent, so it's not like she's lacking.
In terms of actives, I found them less necessary than typical gods. Still beads to get out of a bad situation can never steer you wrong. When solo laning in conquest I'd usually snag a teleport, and heavenly agility to help my team keep up with my blistering pace on more team oriented modes.
When all is said and done, Amaterasu is intense to play. You have to learn patience and discipline in any game mode, but I found playing her tankier in longer modes like Arena or Conquest worked better at end-game. Her heal synergizes well with a lot of the Support/Caster heal items, and the tankier she is, the more she can help the other big damage members of her team explode immovable objects. Joust is a really aggressive map, as is Assault, so if you wind up with her there I'd likely build her similar to Joust; if you don't have a tank on your side, definitely go that route, but if you want to taste power, her glass-cannon build might be right up your alley. Amaterasu definitely plays well with others, and while it's a lot of fun to play with big numbers, bring her to play with your team, drop buffs and pressuring overextended enemies that target your squishies. You can show off the big stun and slow, and create outrageous wombo combos should your guardian not be on guard for the save. Look forward to experimenting with her various partners! Gods I had a lot of fun team fighting with for mass kills were Ah Muzen Cab, Poseidon, Zeus, Bellona, and Odin. They set up ridiculous plays that can quickly tilt impatient enemies into opening themselves up to further snowball mistakes.
Next Article
Square Enix Inc., the publisher of SQUARE ENIX interactive entertainment products in the Americas, today announced that FINAL FANTASY XIV: A R...
by MissyS