MapleStory's Eluna Event Goes Live Today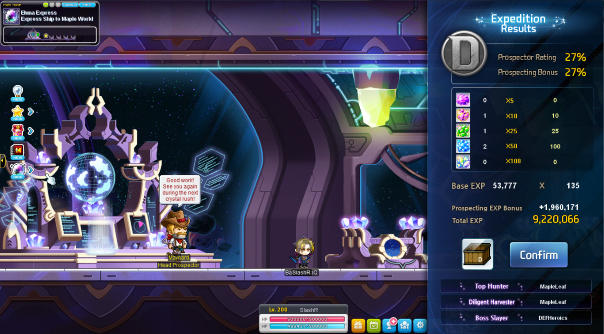 Maplestory's Eluna Event is live today! In it, players will have thirty minutes to excavate Elunite Crystals, which will give players EXP, which is the most valuable resource. ere are five unique crystal types in all, each worth a varying degree of EXP. Minerals can be acquired by hunting fierce monsters, completing challenging missions, overcoming perilous traps, and more. There are 20 missions to complete in total, each with its own valuable reward. Complete all the missions to get the Master of Eluna Box, containing a special medal and useful scrolls.
In the Eluna Event players can:
 ·        Catch the Eluna Express and be automatically placed into an exploration team consisting of 10-40 prospectors. The Eluna Express not only takes players to and from the planet of Eluna, it also takes them around Maple World to rapidly level up;
 ·        Hunt powerful monsters, like the Elunite Elemental, which alternates forms between a ferocious golem or the shape of the surrounding area, as well as packs of Deadly Biteysneks, which consume anything in their path, even a player's Elunite Crystals;
 ·        Obtain unique Prospector Boxes based on a player's Prospector Rank. The player's rank is determined by the success of the exploration team. Higher-ranked Prospector Boxes contain more valuable rewards.
In addition, Nexon America is also unveiling a new Private Test Server [PTS] and if players meet a certain set of criteria [in the link below], they can access it. These will be open for a limited time in August, and a signup is below.
To celebrate these milestones, Paradox is offering a new musical add-on for Europa Universalis IV to all players for free for a limited time.
by MissyS
The merge into one global server maximises and unifies the player base, allowing for transatlantic matchmaking.
by MissyS