Realm Royale Releases OB15 Update and Celebrates Highest Ever CCU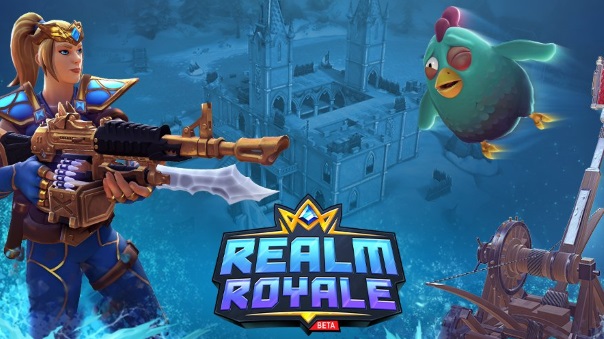 Now that Realm Royale has officially launched into Open Beta, they are proud to announce that during the console launch, Realm Royale exceeded 120,000 concurrent players, which is a new record for the fantasy Battle Royale. This announcement is hot on the heels of the most recent update, OB15, which lets players to take to the skies in a whole new way. Catapults were added to the game, constructed in certain locations, letting players launch themselves into the heavens.
Whether you use it to close in on your prey or outdistance a player who is hunting you, the options are endless. Realm Royale also announced their partnership with Discord, having access to the game through the Discord Store, and a new Mastery System to help progress and develop classes in-game. They also have new cosmetics and a new Battle Pass.
Brief OB15 Overview:
The all-new LMG: A heavy duty weapon that excels at mid-range combat, this weapon has a huge magazine clip, meaning you can pin enemies down if they are taking cover,
or lay waste to anyone who dares to roam about in the open field. This gun is only available from Loot Goblins and Legendary Chest drops.
Mount Emotes: Each mount will receive its very own unique mount emote. Got a favorite steed? Now you can show off its personality to the world.
Quality of Life updates: updated forges, new weapon models, weapon and ability updates, updated UIs and more!
Next Article
Netmarble Games today announced special Halloween events for its recently released mobile games, Quickboy and Seven Knights.
by MissyS
Trove has announced the arrival of the brood of Winter Dragons, headed by Galenor, Primarch of Permafrost.
by MissyS
Monster Super League teams up with Sonic the Hedgehog with this new collaboration, which has officially begun in game.
by Ragachak