Rappelz's Epic 9.6 Update – The Siege of the Citadel Has Launched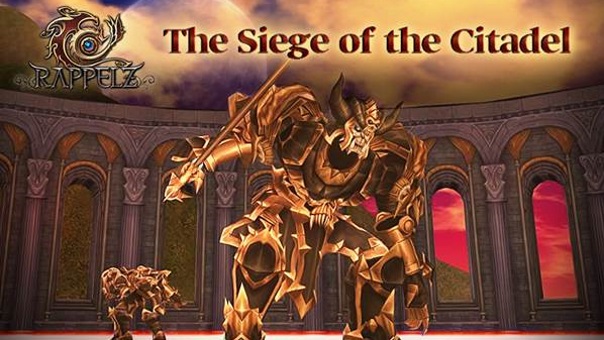 At the end of today's (March 19th, 2019) maintenance, Epic 9.6: The Siege of the Citadel hits Rappelz from Webzen. The new Rondo Citadel Attack comes in this update, alongside class balance changes, and improvements to a wealth of the game. Just outside of Rondo proper, the Rondo Citadel Attack takes place. The Citadel Attack is a competitive PVE speed-run mode. Guilds can bid to participate in one of the six sessions on Saturday – 2 am, 6 am, 10 am, 2 pm, 6 pm, and 10 pm. or the highest-bidding guilds, the mages of the Luciad Society will break the barrier of the citadel and the guilds can enter.
At the end of every week, guild members receive a medal depending on their rank in the Attack. Medals are a new kind of equipment with their own slots. Rewards are given once all of the Citadel Attacks are over for the week, on Saturday night. A medal is given to all guild members, even those who did not participate. Furthermore, the Guild Master of the guild that finishes 1st also receives the Cloak of the Rondo Commander.
This update also brings reworks to the Slayer, Void Mage and Templar, all of which are highly-requested by the community at large.  Classic Pets also return, with the first pet of the Epic type – the Death Gladiator. Powerful, but hard to tame, it requires the rare Epic Pet Cards. The Death Guardian is a melee pet with high evasion, and the cards to tame it will drop from the Gladiator itself. There is also a +25% exp event, and the "It's Pet Season!" event also runs until April 1st, 2019.
The mobile MMORPG MU: Origin began the second Closed Beta on Android and the iOS platforms on the 4th of March, 2016 (UTC).
by MissyS
A new champion for Infinite Crisis, the upcoming free-to-play MOBA from Turbine based in the DC Universe, has appeared out of the nuclear torn...
by Mikedot
Neople has recently announced that their MORPG Beat 'Em Up Dungeon Fighter Online will be making a return to the English gaming market th...
by Mikedot