PAX West 2016 Day One Recap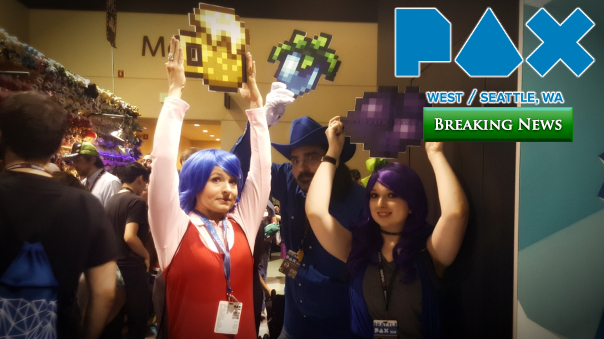 Lords of New York (Lunchtime Studios)
It's amazing that this is a thing. Just a week or two we were talking on Skype [Dizzypw, MissyS, Coltronxl and myself] about how we'd like a version of Prominence Poker that also had RPG elements like playing the table to distract a foe while you're robbing them. . . Lords of New York is something along that line!
It's a Poker game at its core, but it also has a single player story mode where you play as Vince, a mafia fella trying to win New York's biggest underground Poker tournament so he can extend his area of influence. Somehow card games always come into play. . . But you can show tells, cheat, try to cheat, spike drinks and do tons of really clever, sneaky things in Lords of New York. Each of the characters has their own moves as far as I'm aware, and it was a really fun game with quirky but entertaining voice over.
I only got to spend a few moments with the single player story but your character has Moxie [literally!] and I loved being an under-handed bastard. You can try to intimidate people by glaring them down or simply poisoning them. It's all up to you! You owe it to yourself to check out Lords of New York.
Pages: Lords of New York | For Honor | Atlas Reactor | ArcheAge: Revelation | Cosplay Round-Up Teaser (Day One)
Next Article
Shot Online Golf: World Championship is a realistic golf game that brings the golf experience to players on their mobile devices.
by Ragachak
L&K Logic Korea has announced the grand opening of the global Red Stone Online server this week, taking over direct publisher servicing of...
by DizzyPW