Netmarble Celebrates Halloween with Spooky Game Updates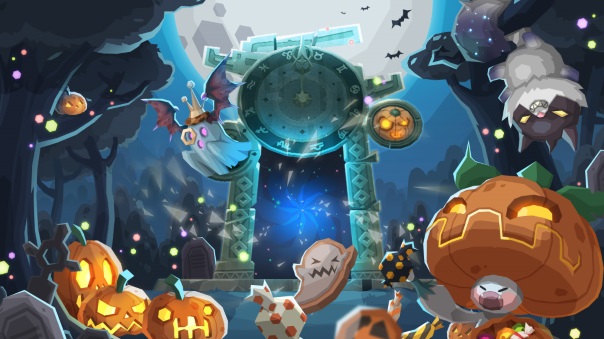 In celebration of Halloween, Netmarble is bringing some spooky updates to their catalog of mobile games. These include in-game events, Halloween-themed character/weapon skins, environments, bosses and special consumables.
From October 23-October 31, the Broom, a special Halloween themed mount, will be available in Lineage 2: Revolution. Also, the city of Magnadin will be decorated for Halloween and two special events will take place from October 23 through November 14. The Halloween Pumpkin Dice event will feature unique monsters Skuldi and Uldi, which players can hunt to earn dice points. The event will reward players with special items including the Blessed Scroll Bundle, Maphr's Protection, and Grade SR stones. The Halloween Jack-o-lantern Guillotine Event will feature a new boss monster, Jack-o-lantern Guillotine. Upon defeating the monster, players will receive rewards include Grade R Varnish, Enhance Scroll, and Maphr's Protection.
 Iron Throne
The Halloween/Day of the Dead theme in Iron Throne will include a special Monster Event, introducing two new monsters. The Halloween-themed Pumpkin Basket monster will appear from 12:00 am on October 25 until 11:59 pm on October 31 (PDT). The Skull Basket monster will appear from 12:00 am on November 1 until 11:59 pm on November 7 (PDT). Defeating these monsters will result in special rewards. Also, the Halloween Event Alliance castle skin will be available for purchase only during the course of the Halloween/Day of the Dead event and will be valid for 30 days.
Netmarble's newest game, Phantomgate will feature two different Halloween events, running October 25-31. In the Halloween Special! Level up Gift Box Event, players who stay logged-in at certain times during the event period will receive materials and gems required to create a 5-star Evolution Rune. In the Halloween Mural Event, a total of nine missions will be available and Essence will be rewarded for every mission completed. All the Essence can be collected to create a phantom of high grade, ET1 Nils.
Knights Chronicle
In celebration of Halloween, Knights Chronicle will reward a Grade SSR Esna character to every user for free. A Halloween-themed Spooky Succubus costume for Esna will be available for 1 crystal during the Halloween event period, October 25 through November 7. Other Halloween-themed costumes include a Spooky Witch for Cynthia and a Spooky Cat for Lifa. Also, players can acquire pumpkins by participating in various contents, and the pumpkins can be used for summoning heroes.
Fishing Strike
Players who log-in to Fishing Strike between October 26 and November 4 will receive premium items and character boxes as a reward, including free Fuel, Gold, Auto-Fishing Coupons, Special Champion Chests, High-quality Lure Lamps, and Fishing Equipment Chests.
Recently, tapfuns Game has launched a major new version update for its popular mobile RPG, Knights Fight.
by MissyS
ArcheAge, Trion Worlds' free-to-play fantasy sandbox MMORPG, will be receiving its most significant update since launch, Heroes Awaken.
by MissyS
Have you been wondering what, and why, Spirit Forms (the animal-like forms characters transform into) exist in Spirit Tales?
by MissyS