MU ORIGIN 2 Gets Upgraded Guild Territory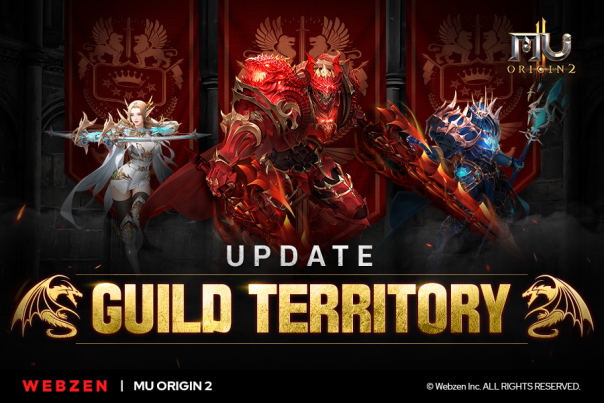 press release
WEBZEN, a global developer and publisher of PC and mobile games, announced that its mobile MMORPG MU ORIGIN 2 received the latest 7.1 update which adds Guild Territory upgrades, Accessory Resurrection, Core Awakening, Mythic Jewel and so much more.
This update welcomes players to a revamped Guild Territory which features upgraded Territory Rewards, a new NPC, enhancements to the Territory Treasure Storage, and a revamped map structure on both Android and iOS devices. Players can now upgrade the Guild Territory using the Guild Fund – though only the Guild Master can carry out the procedure.
The newly updated Guild Territory Boss will be waiting for players to challenge the Boss Monster near the Boss Caretaker NPC to obtain awesome rewards and additional bonuses when the Guild Territory hits Lvl 2. There are several different Boss Levels, and they can all be enhanced with the Guild Territory Update.
When an accessory reaches Lvl 400, the new Accessory Resurrection will allow players to enhance their accessory.
This update also brings new character progression features. Players who reach Master II Lvl 31 (Lvl530) can perform Core Awakening. Additionally, players can equip Tier 6 or higher Equipment with Mythic Jewels to bring out hidden powers.
Furthermore, players can also obtain the Archangel Transfer Stone from the [Receive Transfer Stone – Illusion of Archangel] NPC at Lorencia, once per character. They can also Summon Astrals that are imbued with elemental powers to enhance their Mounts.
In addition to the features above, a new mini-game called Origin Ground, new 'Hide' function, new Accessories & items, fixes and tweaks are now available in the game.
Meanwhile, the new Abyss Season 44 has just started along with this new update, giving players a new mission to collect Abyss Coins and the new Abyss Blood Coins to exchange them for splendid Abyss Costumes. Abyss Season 44 will be running until May 31st, 2022.
Next Article
Bohemia Interactive today announced the official release date for the upcoming Arma 3 downloadable content pack, Arma 3 Marksmen.
by MissyS
Today Kill3rCombo unleashes the second demonic class of Ara Haan, Yama Raja, into the North American servers of Elsword.
by DizzyPW