Defy Gravity in Lawbreakers, Available Now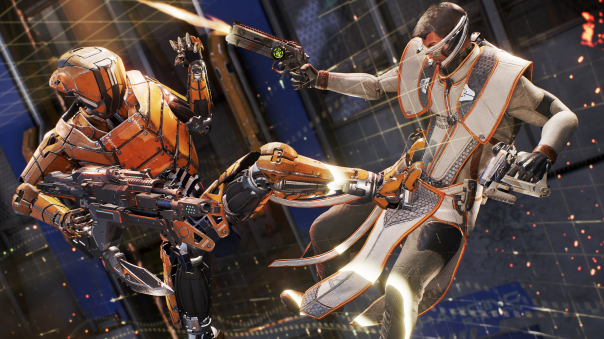 Possibly the most fast-paced and ultra-competitive FPS to come out in years, Lawbreakers defies both expectations and gravity, designed by the legend himself, Cliff Bleszinski at Boss Key Productions. Lawbreakers dropped on both PC and PS4 today, bringing gravity-defying combat, literally, to both platforms. High-octane multiplayer deathmatches, as well a variety of incredible other modes, players must work together in this gravity-light world. Even the greatest players will find challenge in this unique shooter.
"From the beginning, we committed ourselves at Boss Key to find the fun first when making LawBreakers, and place gameplay ahead of everything else. Since then, we've worked to push the genre into a new direction, taking everything we've learned in the past to deliver a super fast FPS that challenges gamers to be their best and truly compete in gravity-defying combat," said Cliff Bleszinski, co-founder, and CEO, Boss Key Productions. "We're thankful to all the fans that participated in the various alphas and betas we rolled out. We always strived to do "open development," and found that being upfront and honest with our testing, along with no NDAs, provided invaluable transparent feedback. Without this rapport, the game wouldn't be what it is today – and we think we have something really special because of it."
Lawbreakers is live, it's incredible, and absolutely worth your best shot.
NetEase has announced today that they are rolling out a new rewards program that will give mobile players more in-game gifts.
by Ragachak
The 80th-anniversary celebration for Superman continues as DC Universe Online continues the "Death of Superman" storyline.
by Ragachak