MTG Development: Dominaria and Events On The Way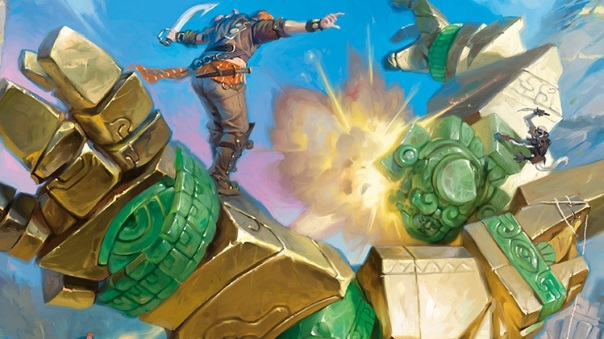 March has seen a lot of growth for Magic: the Gathering Arena, and April promises to be no different. A huge update is coming on April 26th, and it brings a new set of cards, events and much more. Dominaria is the latest addition to the CCG, and a return to the original plane the card game began in, and with it come economy updates: Gems can now be purchased. Visual updates will come with this and a brand-new battlefield. What this is means, is every Saga, every legend and every Thallid will be available when Dominaria hits MTG Arena.
WOTC is also starting an experiment with this release that ties the tabletop game to the digital game. With the release of Dominaria, they will be performing a limited test of redeemable game codes in New Zealand only. New Zealand booster packs and pre-release packs will include an in-game code that New Zealand residents can redeem for in-game items in MTG Arena.  The idea is to have multiple ways for players to experiment in Magic: the Gathering Arena and this update will bring Events. Events are different ways to play and utilize the content they own. The first events will be a best-of-one Constructed event, starting with this April 26 update (sorry F.). Other best-of-one Drafts will occur starting May 4th. Fans of Drafts will be sure to check them out, and to start they will be available each weekend, and best-of-one Constructed events will always be available. More info will be available on April 25thin the Closed Beta forums, along with a full schedule.
To celebrate the release, Wizards of the Coast will be inviting a small group of streamers to participate in an early access event that will preview the Dominaria build and all Dominaria content on April 25th, from 1-5 pm PT. They will receive special accounts loaded with content for one day only to stream and show off what's in store for the rest of the players when the update hits. A complete list of those streams can be found below. In addition, a special livestream will go down on the official MTG Twitch that will go into greater detail on Gem pricing, events, economy updates and more.
Next Article
In a company blog post this week, Riot Games revealed that its shares had been fully acquired by its majority investor, Tencent Games.
by MissyS
Proxy42, a gaming and hardware company specializing in augmented reality (AR), has launched its pre-sale for Father.IO and the "363R&quot...
by MissyS
My.com today has released details for the new location named the Red Forest in their upcoming sci-fi MMORPG, Skyforge.
by Mikedot