Lineage 2: Revolution's August Update Introduces the Academy Clan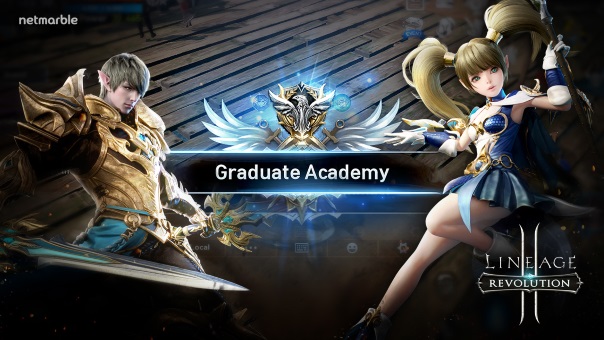 Lineage 2: Revolution received an update today that introduces the brand new Academy Clan. This is a tutorial for beginners and veterans alike that guides them through the Clan system and will help them achieve victory. Players levels 10 through 180 who have not joined a Clan can join the Academy Clan to enjoy a full Clan tutorial. Those who are a part of it are able to stay a member until they reach level 181, at which point they will graduate and be recommended to join a player-led Clan. Players can, of course, leave the Academy Clan at any time. The Tower of Insolence will also see an update, going up to 120 floors and all players will receive 500 Red Diamonds if they reach the 120th floor by August 29. 
Players can also compete to reach the 120th floor first during the "Tower of Insolence World's First Clear! Event" from August 8 to August 29. The first 10 players from each server to clear the 120th floor of the Tower will be rewarded with Blue Diamonds. The first place finisher will receive 5,000 Blue Diamonds, the second to fifth place finishers will receive 2,000 Blue Diamonds, and sixth to tenth place finishers will receive 1,000.
To celebrate the new tutorial, three new Clan-specific events will be held from August 8 to August 29. The "For the Clan! Event" will offer special rewards including R-grade Armor Boxes, R-grade Mount Equipment Boxes, and Radiant Upgrade Stone Selection Boxes to all players in Clans, including new Academy Clan players, after they have completed a series of Clan-specific missions. When members of a Clan donate items to their fellow members, they will also receive 1.5x more Adena than usual via the "Clan Check-In and Donation Reward Event. A new "Clan Penalty Period Decrease Event" will also lessen the penalties of leaving and rejoining Clans during the event period, so players will have a chance to try out a variety of Clans.
Netmarble has launched their take on the popular game mode in Lineage 2: Revolution, with the Battle Royale update.
by Ragachak
Infernum Productions is proud to announce that the fantasy MMO Dragon's Prophet has just unveiled a new region known as Thadrea. The highlan...
by Mikedot