Lineage 2: Revolution Updates Add First Second Class Transfer And More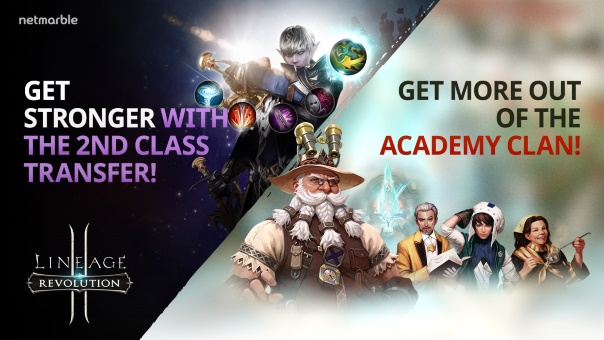 Netmarble has announced several updates to Lineage 2: Revolution today, including the anticipated Second Class Transfer.
Highlights from these updates include (per press release:)
SECOND CLASS TRANSFER PART 1
Part one of the Second Class Transfer has been added so players can experience more skills, classes and new content. Players can start the Second Class Transfer Quest at level 250 with quests available up to Chapter Four and additional chances to progress at specific levels. To complete the Class Transfer Quest, players must imprint Giant's Essence to all the Patterns obtained throughout the gameplay journey. Furthermore, players can increase their character's statistics by imprinting Seal Patterns throughout the four chapters.
Part two of the Second Class Transfer will be added soon, opening up a new Class to Open Siege!
SECOND UPDATE ON COLLABORATION FEATURE
Last month, Lineage 2: Revolution rolled out a surprise collaboration feature and is now revealing the second part of the collaboration. The second part of the collaboration will feature a variety of monsters within Lineage 2: Revolution gameplay including event bosses 'Acala' and 'Queen Butterfly.' Players receive badges and rewards when a boss is defeated. If players acquire all the badges, an additional Soul Stone will be rewarded that can increase combat power.
SECOND ACADEMY CLAN UPDATE
From the introduction of Academy Clan feature last month, players are now fully enjoying the Clan Hall within Clan Academy, a Clan system tutorial for new and veteran players. All members of the Clan Academy now receive their very own Clan Academy Cloak by being a registered member of the Clan Academy. Additionally, Clan Hall will now be managed by keepers categorized by their roles – Quest, Potion, Feast, and Relics.
Next Article
As Friday the 13th draws closer, the creepy things will crawl out of hiding in Battlerite for the 'Tales of Horror' event.
by Ragachak
SamuTale, an open world sandbox RPG, has announced the start of its closed alpha.
by MissyS