Lineage 2: Revolution Releases Holiday Update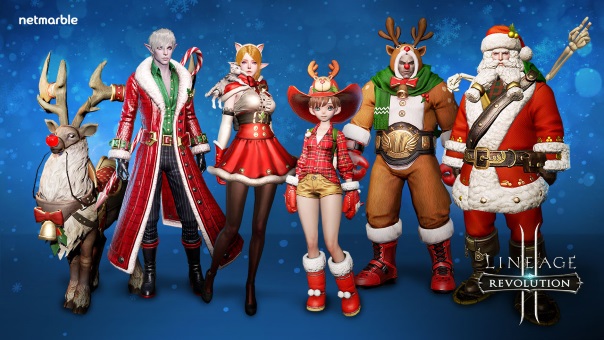 Netmarble has released a festive holiday update for Lineage 2: Revolution, which includes Christmas-themed content and special in-game events that feature free item giveaways for players. With the holidays approaching, Magnadin will receive a Christmas makeover, with themed decorations adorning the streets. There's also a new "Rudolph" mount and an all-new "Santa Claus" costume available, letting all races become the Jolly One himself. The Temporal Rift has received an update as well, with a third party dungeon, 'Temple of Creation', added. Players will need to cooperate with other parties to participate in strategic play, completing certain conditions and quests to battle with Magical Monsters and clear each stage.
It's the season of giving and Lineage 2: Revolution has added a year-end item exchange. Players will receive snowballs during gameplay that can be exchanged for special items, including the Rudolph Summoning Stone, Santa Costume and Blessed Scroll Selection Box. Players will also be happy to discover that the difficult to acquire Red Rare Equipment will be available during a limited time giveaway! All players will receive a box of exclusive magical monster armor attributes which provides Red Rare Equipment at random when logging in after December 17.
Additionally, Lineage 2: Revolution players can collect special items and magical monster attribute items by clearing quests in the new Aymel's School event.
Vainglory will begin its inaugural Autumn Season with update 1.9 launching today along with countless new features.
by MissyS
Epic 9.5 is on the way for Rappelz and promises to bring a host of new features and challenges to the community, such as a new dungeon.
by Ragachak
Wargaming is preparing to launch Red Steel Rain, an exciting content update for its console multiplayer tank warfare game, World of Tanks: Xbo...
by Mikedot