Legion of Heroes Update Adds New Epic Chapter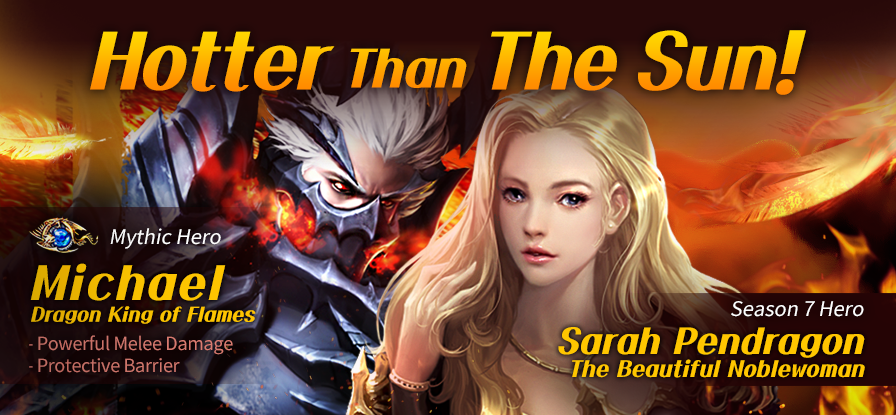 Nexon today announced a new update for Legion of Heroes, adding Chapter 4 of the game's story plus new heroes and more.
---
Legion of Heroes is an immersive turn-based combat game set in an epic 3D open world with more than 100 heroes to collect, dynamic real-time PVP and grand guild wars. Players recruit heroes to train, customize, and gear up to build their own squad and become the ultimate hero. The latest content update gives players a brand new story to experience and introduces new heroes.
The Legion of Heroes update features include:
Legendary Hero Ticket: Android users can enter the code [GUESSWHOSBACK] for a Legendary Hero ticket and additional items (iOS users will be rewarded separately);
Brand new story chapter: Players will experience "The King's Return" as chapter 4 opens up new stories to explore;
New Heroes: Michael, the new Mythic Hero, and Sarah Pendragon, the new Season 7 Hero are now available via Premium Hire;
Rebirth of Heroes: Players' main heroes have more power than ever with the ability to be reborn and increase up to Level 100;
New Vindictus Hero Coming Soon: Following Evie, Lann, Karok and Fiona, a fifth collaborative hero will join the squad in late July, all with the ability to wield their own exclusive weapons. Vindictus heroes & exclusive weapons can be purchased via the in-game shop.
In addition, special events give fans even more to explore and opportunities to power up their gameplay and include:
Rune Reinforcement Rate Up: Scrivener Rita feels lucky lately, which means her success rate in Rune Reinforcement will increase during the event period taking place between 7/13 through 7/19 before maintenance (iOS: 7/14 ~ 7/20 before maintenance);
Hot Summer Special: Players will enjoy EXP buff through the entire week, as well as added Attack, Gold, and Drop Rate boosts as well as extra Frenzy Time Chest through the weekend starting on 7/13 through 7/26 before maintenance (iOS: 7/14 ~ 7/27 before maintenance);
Mythic Raid Rank-in Contest: The highest rankers in the Mythic Raid during the event period between 7/13 through 7/19 before maintenance will be rewarded with Splendid Legendary Equipment Chests (Rank 5), and there are also shiny rewards for subsequent rankers. (iOS: 7/14 ~ 7/20 before maintenance)
Next Article
Studio Wildcard has finally brought the news that Playstation 4 owners have waited years for.
by DizzyPW
InnoGames has announced its newest title, Kartuga, at E3 in Los Angeles.
by MissyS
Digimon Masters Online is preparing for its new Summer Festival update.
by MissyS