Hearthstone's Latest Expansion, Saviors of Uldum is Live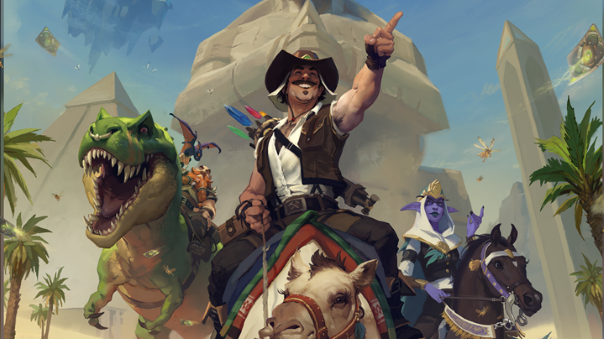 The League of Explorers has arrived to stop Arch-Villain Rafaam's plans and put an end to the plagues infesting the land. This goes down in Hearthstone's latest expansion, Saviors of Uldum. There are new quests to tackle, and success gives your Hero a new power. Of course, there are also new spells to cast in the form of Plagues. Plagues will wreak havoc on the board, as will the new mechanic/keyword, "Reborn". Minions with Reborn will come back after they are destroyed the first time, with 1 health remaining.
There are familiar mechanics that come back as well alongside new lackeys, quests, and no-duplicate cards. Players who log into Hearthstone starting today will receive a random Legendary Quest card as well. Starting your Saviors of Uldum Legendary Quest grants three Saviors of Uldum card packs. They also tease a new Solo Adventure that is on the way: Tombs of Terror! This next adventure will launch in September.
Features of Hearthstone's "Saviors of Uldum" Expansion:
PERILOUS PLAGUES – Survive (or set off!) Plague cards with huge, board-sweeping actions that affect all minions on the board.
IT'S ALIVE! – Restless mummified minions with the Reborn keyword will come back to life (with just 1 health remaining) upon being defeated.
EXPANDING THE QUEST LOG – Even the odds against the League of E.V.I.L. with all-new Quests, a returning mechanic featuring game-changing objective cards that are now easier to achieve and reward players with powerful alternate Hero Powers.
Next Article
The core gameplay focuses primarily on moderately paced, up front action. With multi-stage objectives to focus on.
by Mikedot
Bierzerkers is a game of team-based combat; as of this writing there are two game modes I have experienced.
by Ragachak