Guild Wars 2: Heart of Thorns First Beta Weekend Event goes Live August 7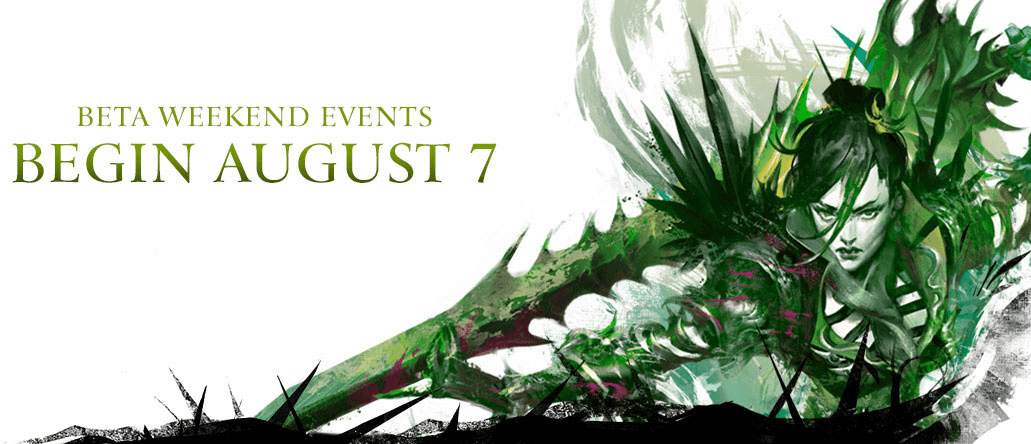 NCSOFT and ArenaNet™, publisher and developer of the acclaimed Guild Wars franchise, today announced that the first publicly accessible beta for Guild Wars 2: Heart of Thorns will get a preview on the show floor at gamescom then launch worldwide as the first official Beta Weekend Event for players who pre-purchased the game. The studio will debut a demo showcasing a portion of the content that's playable in the beta test on the show floor starting on gamescom's opening day on Wednesday, August 5, and running until the show ends on Sunday, August 9. ArenaNet is partnered with Twitch at gamescom and will have demo stations open to all attendees at the Twitch booth (Hall 9, Booth A-060).
For the Beta Weekend Event, players around the world who purchase Guild Wars 2: Heart of Thorns will be able to play all of the content in the beta test using their existing Guild Wars 2 accounts starting at 9:00 p.m. CEST (8:00 p.m. BST) on Friday, August 7th, and running until 9:00 p.m. CEST (8:00 p.m. BST) on Monday, August 10th. ArenaNet announced access to Beta Weekend Events as one of the perks for anyone who pre-purchases Guild Wars 2: Heart of Thorns, the upcoming expansion to Guild Wars 2. In this first test, players will have a chance to experience the first story instances in the expansion's new area, the Heart of Maguuma Jungle, as well as playtest the revenant, an all-new profession with attacks and abilities that draw their powers from legends of Guild Wars lore. They will be among the first to try out the new elite specializations that introduce new weapons and skills for each profession in the game. They also get to test the new masteries system, a new endgame progression system that replaces linear leveling and gives players choices in the new skills, abilities and rewards they pursue.
ArenaNet is enabling players to save their progress during testing and carry it over into future betas for Guild Wars 2: Heart of Thorns, giving them a chance to experience how character progression and earning new abilities works in the expansion. ArenaNet game director Colin Johanson details what players can expect in this coming Beta Weekend Event, and what gamescom attendees will get to preview, in a blog post published today.
In addition to the beta preview, Guild Wars 2 fans attending gamescom have a few more reasons to look forward to the show. For the first time ever, the Guild Wars 2 World Tournament Series (WTS) comes to Europe, held in collaboration with ESL and taking place live throughout the show day on Saturday, August 8, at the ESL booth (Hall 9.1, Booth B-060). Returning champions and Europe's own Orange Logo are once again in the running after taking the title and the lion's share of the $50,000 cash prize at WTS-Boston in March. They will be defending their crown against a stable of top contenders in Cologne. To win the first-ever back-to-back WTS championships, Orange Logo will need to overcome The Abjured from North America, who placed second in Boston, The Civilized Gentlemen from Europe, who placed second at WTS-Beijing, and the super group GLHF from China, who has competitors on their roster with prior WTS appearances. ArenaNet will be streaming WTS-Cologne, with the action called by shoutcasters Jebro and Kaelaris along with analysts Wafflewrath, ChroNick and Sputti, starting at 10:00 a.m. CEST (1:00 a.m. PDT) on the official Guild Wars 2 Twitch channel.
ArenaNet will also be live streaming game demos and special programming from the Twitch booth. Lucky attendees who play Guild Wars 2: Heart of Thorns on the specially equipped streaming PC at Twitch's booth, complete with face-cam, will have their demo livestreamed for the world to see. ArenaNet developers and special guests from the Guild Wars 2 community will also be part of programming filmed daily at the booth. Program highlights include a segment uncovering the 'heart' of Guild Wars 2: Heart of Thorns with Crystin Cox, lead designer on the game, and a German community roundtable with popular Guild Wars 2 Twitch streamers. ArenaNet will be streaming live from gamescom every day during show hours on the official Guild Wars 2 Twitch channel.
For a full schedule of livestream programming and other activities at gamescom, please check out the Arenanet at gamescom web page.
Next Article
gamigo announces that the MMORPG Bless Online will not be published in Europe and North America.
by MissyS
CCP Games announces that critically acclaimed actress Katee Sackhoff will play the starring role in their upcoming virtual reality (VR) videog...
by MissyS
Dragon Awaken is launching a new event, system, and starting on August 1st, 2017, a Spanish Edition of the game will be live.
by Ragachak