The Grinch plots to Take Over Panda Pop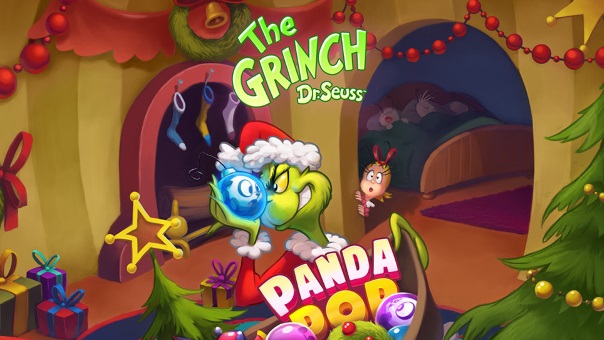 The Grinch is taking a little detour from sacking Who-ville to visit the Panda Pop dojo this December. Jam City is collaborating with Dr. Seuss Enterprises and White Space Entertainment, to celebrate Grinchmas. The Grinch returns to Panda Pop with a wealth of in-game events, activities and seasonal fun for all players. The Grinch has arrived to muck up Christmas and will be sticking around until January 2nd, and while he's around, Panda Pop will have a very wintery, Christmas look and feel. Players can expect appearances by The Grinch, his faithful dog-turned-reindeer Max, and of course, the adorable Cindy-Lou Who.
Grinchmas Event Calendar:
Who-ville Takeover of Panda Pop! [Through January 2nd]: Starting December 6th, key areas of Panda Pop will sport a merry makeover, taking on the festive decor, colors, and characters of Who-ville at Christmas – including a Grinch-style snowman! Visit the winterized Zen Garden to participate in limited time events and festive holiday animations.
 Stocking Stuffers [Through January 2nd]: Courtesy of the canine sidekick, Max, earn special Stocking Stuff bonus points as you play. The more you play, the more points you earn from 'ol Max!
Super Streak [Through January 2nd]: Beat new levels without losing … and win rewards to keep you cruising! Reach new thresholds in your win streak to increase the value of your prize.
Grow Your Rewards Three Sizes (or more!) in Super Streaks! [Through January 2nd): Beat levels without losing a round, to earn bigger and better rewards, to use in your next round of Grinch-style gaming!
Grinch Rush! [Through December 22nd]: Help Mama Panda beat a set number of levels within a time limit for a massive, holiday reward!
Grinch Raid! [December 14 – 17th; December 21 – 24th; December 31 – January 2nd]: The Grinch is loose in Who-ville! In this special, co-operative event, thwart the delightfully dour Grinch, as he tries to abscond with all the presents and decorations in Who-ville – even the roast beast!  Collect snowballs to throw at the Grinch while he tries to escape with the goodies!
Daily Grinch Gifts [December 19 – 25th]: Log in daily for an advent calendar style countdown to Christmas! Players are treated to a special gift (don't tell The Grinch!) each day they play.
Next Article
Magerealm, GTArcade's hit 3D MMORPG, is excited to announce a new Angel to join Realm - Leona, the Pride of the Angels!
by MissyS
Hi­-Rez Studios today announced that the first public showing of SMITE on Xbox One, the all-in-one games and entertainment system from Micros...
by Mikedot