Goliath Summertime Gnarkness DLC Available Today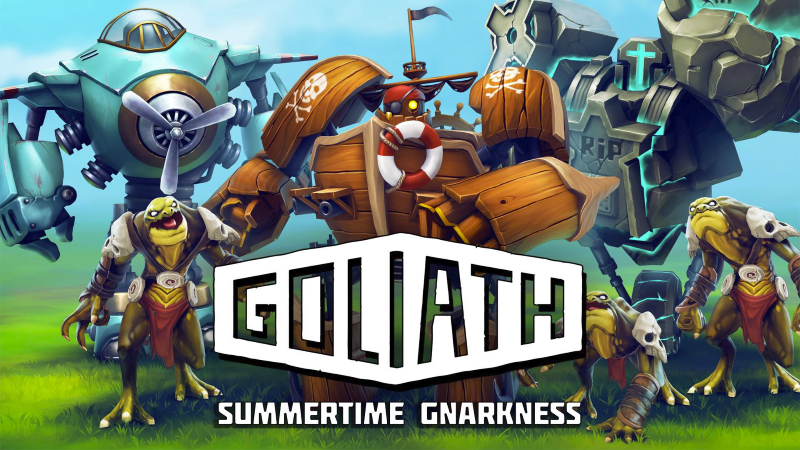 Octopus Tree, a new publisher focused on bringing exceptional indie titles to gamers worldwide, announced today the release of the first DLC expansion for their award-winning premiere action title, Goliath.
Goliath: Summertime Gnarkness is now available for free to everyone who already owns Goliath. This new DLC expansion will add even more gameplay to the already amazing action-adventure game about building robots from sticks and stones to clobber giant enemies.
"We are very excited to release the first DLC for Goliath today," said Jeremy Zoss, Marketing Manager for Octopus Tree. "The development team has done a great job listening to the community and making fixes and improvements, but Summertime Gnarkness represents the first time we've been able to add a major gameplay expansion. We think fans will love the new gameplay opportunities this DLC has to offer!"
Goliath: Summertime Gnarkness Features:
Get Tough: New challenging content designed for Level 30+ players!
New Goliaths: Four new Goliath types that are more powerful and faster than you've seen so far.
Epic Goliath Heads: Four new Epic Goliath Heads that add more variety and power to your Goliaths. Add the Epic Heads of Great heroes to your machines and watch your enemies tremble.
Epic Weapons: Take on the toughest enemies by equipping one-of-a-kind Epic weapons, each loaded with special bonuses and abilities.
The Gnarks' Arena: Take on tough new challenges designed only for experienced warriors. Participate in the roughest tournament in the history of the World of Shards by battling even more powerful versions of the game's bosses!
Dungeon of The Apocalypse: Do you dare journey into the most challenging dungeon of them all? Prevent the end of the world or die trying.
Next Article
Above & Beyond Techonologies releases alpha previews of The Repopulation's weapon skills.
by MissyS
In addition to offering access to The Awakening's closed beta, Grinding Gear has also announced that it has introduced another new facet....
by MissyS
How do you troll a bunch of Marvel Heroes developers? Tell them your favorite superhero is Superman.
by DizzyPW