Games of Glory Open Beta Begins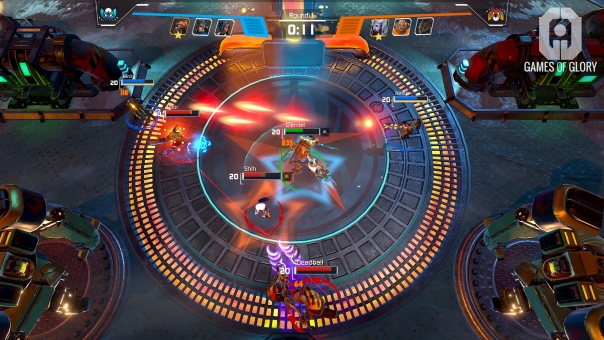 Lightbulb Crew has announced the official open beta launch for Games of Glory, its free to play top-down team shooter. Games of Glory offers cross-platform play between PC and PlayStation 4.
In Games of Glory, players will take center-stage in the arena as one of 15 powerful warriors, each with three unique abilities to take into battle. The five distinct classes – tank, support, carry, assassin and scout – provide players with the ability to choose the character that best fits their preferred play style. As players earn credits in a match, they will be able to customize their elite soldiers by purchasing and upgrading 50 unique non-character specific weapons. From flamethrowers and swords to rocket launchers and sniper rifles, dozens of deadly combinations are at the disposal of Games of Glory competitors.
Anders Larsson, CEO and founder of Lightbulb Crew, said:
The highs and lows of competing alongside friends is why we made Games of Glory and we can't wait to see and hear about the friendships and rivalries alike being forged on the battlefield. Now that the Games of Glory arena gates are open to gamers worldwide we're already looking forward to what's to come in the weeks, months and years ahead with new characters, weapons, in-game events, maps, modes and much more. Today is just the beginning of Games of Glory.
Games of Glory's Club feature provides teams with the ability to customize their skins with an expansive color and logo creator or import custom designs directly into the game. Clubs give players a new way to play together and show their true colors as they wreak havoc across the two arena modes on the planets Arkashan and Svandia. Arkashan features a 4v4 battle arena where players must take control of capture points in order to lay siege to their opponent's base. Svandia is a lightning-fast 3v3 matchup where players focus on defeating the randomized Star player on their opponents team in a race to win five rounds.
Next Article
The apocalyptic fantasy sandbox MMORPG, Xsyon kicks off its guide run Event Season this Friday starting with an always popular Treasure Hunt e...
by MissyS
Several new systems and high level content has been introduced for RaiderZ players.
by MissyS
The mighty leader of the Decepticons, Megatron, is now playable in Transformers: Forged to Fight.
by Ragachak