Final Fantasy XIV's Update 4.55 Now Available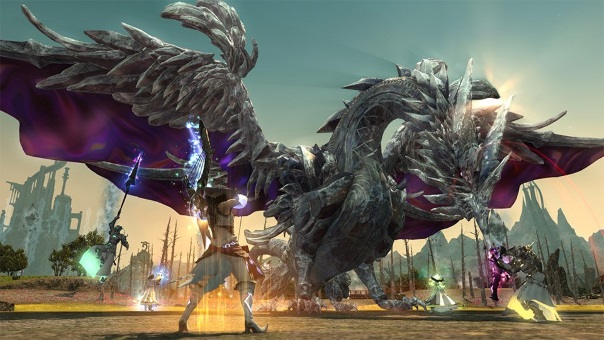 The latest update for Final Fantasy XIV is live today, as we get closer and closer to the third expansion of the MMO, Shadowbringers. Update 4.55 is live today and brings with it a wealth of new content. The new Rival Wings map, "Hidden Gorge" has teams of 24 players competing to destroy the core of their opponents base. There are also train stations to control, and goblin mercenaries roaming, that players can win the favor of to aid them in battle. The Forbidden Land of Eureka reaches its climax as well, in the region of Hydatos. An increased level cap, new actions and improved gear have players heading towards their final destination. Those who follow the story to its conclusion can enter The Baldesion Arsenal, which is a high-end instance where up to 56 players can explore together.
The Valentine's Day celebration also will run until February 15th, which includes several rewards, such as a Tonberry Knife. Square Enix also tease content coming in future updates leading towards the finale of the Stormblood story, such as Patch 4.56, which is coming in Late March. The Stormblood storyline concludes there, and the Hildibrand side-quests continue again! 4.56 will also have a new quest series to bring together the Stormblood beast tribes. Patch 4.57 will also have the World Visit System, which lets you travel to any world within your data center using Ul'dah, Limsa Lominsa, or Gridania aetherytes, so that you can play with your friends.
Furthermore, the collaboration between FINAL FANTASY XIV Online and FINAL FANTASY XV, initially revealed during the FINAL FANTASY XIV Fan Festival in Paris, is scheduled for release in mid-April. The collaboration will feature FINAL FANTASY XV hero Noctis Lucis Caelum entering the world of Hydaelyn with the Regalia, where he will join the Warrior of Light in battle against magitek infantry, magitek armor, and even the Messenger, Garuda hailing from Eos.
Players can look forward to more information on Shadowbringers at the Fan Festival in Tokyo on 23rd – March 24th, 2019. All Fan Festival events will be streamed free of charge on the official FINAL FANTASY XIV Twitch channel.
Next Article
As part of its premier at E3 2015, Seasun Games will showcase its first game to launch in North America, Relics of Gods.
by DizzyPW
Kakao Games and Krafton have announced the new name of Ascent: Infinite Realm.
by MissyS
Ship of Heroes recently posted a blog post on their forums concerning the projects they're currently working on for the upcoming MMO.
by Ragachak