Dragon Front: World's First Virtual Reality Collectible Card Game Revealed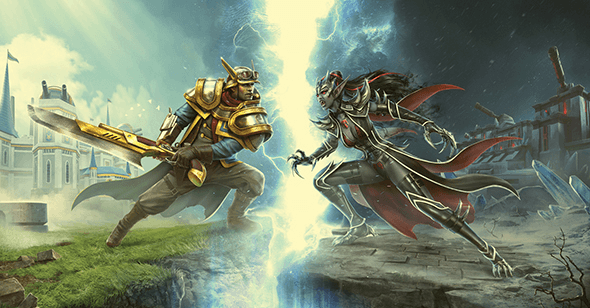 Today High Voltage Software revealed Dragon Front, a turn-based collectible card game (CCG) made specifically for virtual reality (VR) and Oculus Rift.
Dragon Front offers incredible variety in gameplay, with 280 characters, 80 different encampments, and more than 100 spells. It also leverages the inherent social strengths of VR, allowing live online multiplayer competition while your opponent sits across from you and trades commentary.
The game's style is a blend of fantasy and dieselpunk aesthetic with a wide variety of looks and different skills and power combinations.
"We're all super avid CCG fans so developing the game has been an amazing experience. In fact, we built the game after prototyping a physical game board and cards so we could get it exactly right," explains Eric Nofsinger, Chief Creative Officer at High Voltage Software. "It's a true card game come-to-life all around the player, and with features both surprising and familiar, Dragon Front is a highly engaging nail-biter till the end."
"Dragon Front represents an important milestone for our studio," says Kerry Ganofsky, CEO and founder of High Voltage Software. "Not only have we created a fantastic VR card game that's easy to pick up and play, but we've also demonstrated the incredible versatility of the Oculus platform for endless replay value. They've also been so supportive and collaborative with us developing in this new terrain."
While appealing to the established CCG and boardgame audiences, Dragon Front will also appeal to VR and gaming fans with its ease of entry and repeat play appeal. There are hundreds of variables to keep players engaged.
In Dragon Front, war has destroyed the world of Terrene Gall. To prevent the world's destruction and win the war for their faction, players must travel back in time and use all available resources to gather new soldiers, discover powerful spells, construct a mighty fortress, and call in legendary champions.
Game features include:
• Unique Factions – Choose from thematically diverse armies with unique powers, traits and creative strategies.
• Legendary Champions – Every deck holds a legendary champion, whose cost diminishes as his or her side nears defeat, ensuring an epic showdown in the last minutes of every game.
• Collectible Cards – Construct a 30-card deck from over 260 battle-hardened soldiers, battlefield fortifications, and magic spells.
• Additional Downloadable Content – The first three add-on packs are in development, each with new factions, champions, and fantastical landscapes. The game launches with two factions with more included in new updates.
Look for Dragon Front later this year, only on Oculus.
Halloween is on the way, and Nexon Mobile is ready to celebrate in their titles DomiNations, HIT, and Titanfall: Assault!
by Ragachak
KoramGame has announced the launch of a new update for Spirit Tales.
by MissyS
A new Game Director Letter for The Secret World looks to the days and months ahead as the game prepares for Tokyo.
by MissyS