Digimon Masters announces new Digimon and events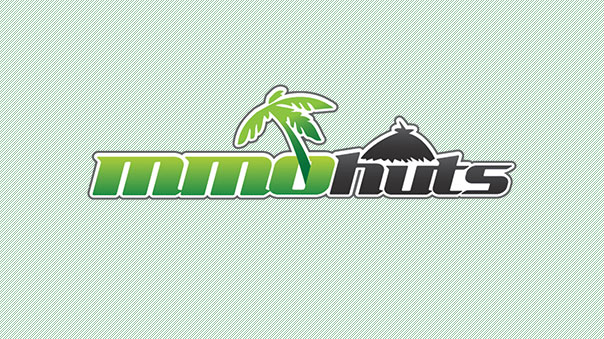 Joymax has announced the launch of their next content patch for Digimon Masters Online, which brings in Guilmon's ultimate form, amongst other features.
Guilmon has been a favorite of fans, but has only been able to partially digivolve.  Now, players can unlock his fully evolved form, Gallantmon.  Also being released with the patch are Terriormon and CommanDramon.  To celebrate, from now until May 15, players can test their luck in the capsule coin system, where several of the best cash shop items will be made available, including the Soulmon hat.  GMs will also be playing hide-and-seek with players throughout the time, who will provide various items that can defeat the boss monster they summon.
Players are also encouraged to join the mentoring program for their chance to win various prizes.  New players can also help Frigimon find her lost Terriormon dolls for several different prizes as well.
Joymax also publishes Silkroad Online and Karma Online.
Digimon Masters Gameplay Screenshot
 Source:
ULTIMATE DIGIVOLUTION BLASTS OFF IN DIGIMON MASTERS

Guilmon Arrives With Two New Friends And Events Galore

April 18, 2012— Joymax, leading online game developer and publisher, announced today the launch of their next content patch for their online massive multiplayer title, Digimon Masters. A fantastic universe where our world and the Digital World are closer than anyone would have imagined is about to change in ways never expected! Digimon Masters continues the story and heightened sense of urgency found in the Digimon anime. The April update not only brings Guilmon's ultimate form, but new and familiar faces will be joining his side to fight against the ultimate evil, armed with a variety of contest items! Tamers who want to join in on the fun can sign up at the Joymax portal at http://www.joymax.com/portal

Guilmon, a fan favorite Digimon, was introduced during the March updates but was only able to partially Digivolve. Now, with tamers poised with their Digivices, Guilmon can now upgrade into his burst mode form: Gallantmon crimson mode! Only the most dedicated Guilmon owners will find a way to release the power locked inside.

Joining the fast paced fray is two new allies: the cuddly Terriormon hides nerves of steel behind his cutesy exterior, and he joins CommanDramon, who provides a solid addition to any team. Two new egg and valuable data accompany the discovery of the two new Digimon.

To celebrate the arrival of the new Digimon, numerous events will be taking place from now until May 15th. Try your luck with the capsule coin system; every draw is a winner, and some of the best cash shop items will be available for a limited time – you might be one of the lucky few who receive a Soulmon hat! This is one of the only ways to grab this rare item, so be on the lookout for coins everywhere.

GMs will also be playing hide and seek over the next month, so keep your eyes open for their clever hiding spots. Finding the GM will reward the player with a variety of items including Evoluters, Digiclones, and Reinforced Digi-Eggs, but be warned: those GMs who have been discovered will summon boss monsters that players will need to defeat or get wiped out!

Join the Digimon Masters mentoring program: Share the secrets behind a perfect offense on the forums and win several prizes, including Kudamon, Evoluters, and Reinforced Mercenary Digi-Eggs. New players aren't left out of the update, as Frigimon has lost all her Terriormon dolls and needs Tamers to retrieve them for her. Return her precious plushies for prizes including VeeMon, Guilmon, Salamon, Reinforced Mercenary Digi-Eggs, and even Monster Cards.

Digimon are well known all over the globe as part of the famous Japanese TV animation series. Digimon Masters is the first ever 3D online game based on the Digimon universe with more than 1,000 characters featured from seasons 1 through 5 of the series. Not only is it faithful to the art design, Digimon Masters closely follows the original story that will satisfy both loyal fans of the series as well as the average gamer. The game seamlessly combines pet training simulation with role-playing elements to deliver a one of a kind gaming experience. Featuring real-time combat, Gamers will be thrilled with the challenges brought forth by real-time combat which requires quick thinking and good reflexes. Players can also become one of 8 Royal Knights. Royal Knights are Digimon who are in charge of each area in the Digital World. Leaders of a guild that conquers one of these areas can become a Royal Knight who has the right to impose taxes along with other perks and obligations.

To get the latest information and regular contests for amazing prizes, players are encouraged to follow the official Facebook page at http://www.facebook.com/digimonmasters Players can also check out more details at http://twitter.com/dmojoymax/
Next Article
Daily MMO news with Guild Wars 2, City of Titans, Warhammer Online, and much more.
by Guest
The latest expansion to martial arts MMO from Snail Games, Age of Wushu: Winds of Destiny, officially launched Wednesday, October 15th.
by Mikedot
The competition for $400,000 is underway! Teams of players are competing to clear a 40-person dungeon faster than anyone else.
by Ragachak