Crazy Defense Heroes Mobile Game Launches in Americas and Europe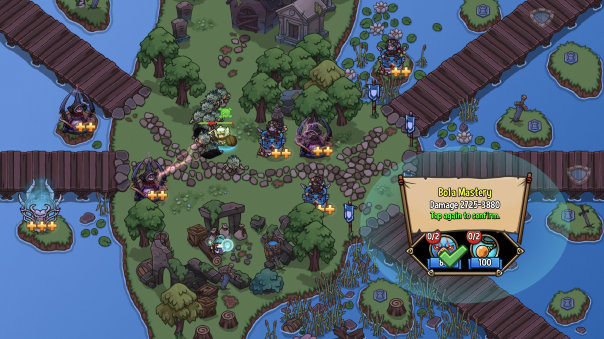 The popular tower defense game Crazy Defense Heroes on iPad/iPhone has now launched in North/Central/South American countries as well as Europe. Crazy Defense Heroes is a mobile game for iPhone and iPad, now available in most of the world. The sequel to Crazy Kings, Crazy Defense Heroes blends the deck building of a collectible card game, the suspense and strategy of tower defense, RPG character and equipment systems, and a fantasy storyline with over 500 levels of innovative gameplay. Players control an avatar that marshals the defense against orcs, serpent-people, birdmen, minotaurs and more. In addition to a single player campaign, it also hosts multiplayer tournaments and competitions.
Players build defenses and use magic to blast enemies, slow them down, reveal the unseen, or create other real-time effects to achieve victory. Like everything else in the game, magic and skills can be upgraded using resources collected as the player explores the game world. There are 19 types of tower cards that players use to defend against the enemy hordes, and 20 individually controlled hero characters to unlock and level up. The launch today increased the availability of the game to over 80 new markets, and in the second quarter of 2018, Crazy Defense Heroes will launch in the Middle East. Development of the Android version of the game is also in progress and expected out later this year.
To commemorate the release of CBS' new Star Trek series, players can log in to Star Trek Online for a free Star Trek: Discovery uniform!
by Ragachak
Citadel Studios announces the launch of Alpha for Legends of Aria, previously Shards Online.
by MissyS
With Star Trek Online's next expansion, "Victory is Life", 12 of the original cast members of Deep Space Nine will reunite.
by Ragachak