Cody Whitfill Releases the First Book in Witty New Series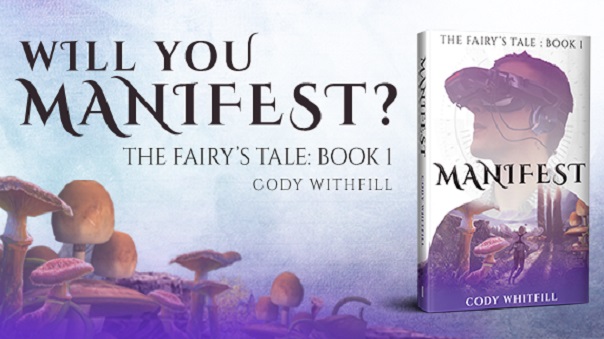 The Fairy's Tale Has Begun!
Manifest, the first book in The Fairy's Tale series is now available on Amazon and Kindle Unlimited.
Tricked. Hoodwinked. Swindled. Betrayed. Take your pick.
Once upon a time, the inhabitants of Earth got hosed.
What was supposed to be just a game turned out to be the single most destructive terrorism event in history. It happened in an instant. Millions of people around the globe all falling into unshakable comas. Doctors, politicians, police, soldiers, teachers… none were spared. Global infrastructures failed, and chaos reigned supreme.
Follow Gitch as he navigates his new life as one of the game's most unique races. He is not your typical hero. No bulging muscles, super powerful sword, or insane starting knowledge of the game whatsoever. Nope, he is just one unlucky dude with a penchant for finding himself in, and out, and then back in, a squirming hot mess of trouble.
Stephen C.J. Nesbit, a
prominent Amazon Kindle reader and reviewer, had this to say about Manifest:
Funny, creative, original! Loved every page. Gitch is my hero. Finally a unique litrpg story with unique races and classes! Gitch and all of his strange skills is just a ton of fun to read! Really hoping the next book is just as original!
You can find Manifest, The Fairy's Tale: Book 1 here:
https://www.amazon.com/Manifest-Fairys-Tale-Book-1-ebook/dp/B07RT4X5P1
Cody Whitfill was born and raised in the Heartland of America and is married with 2 young boys. Reading and gaming have long been passions of his, particularly when it comes to fantasy or survivalism. Cody published his first story in 2002 upon winning a citywide young novelist competition, and his love for writing has only grown since. Cody has always loved a good tale and is excited to share the beginnings of one with you now.
Next Article
Independent developer Keen Software House announced that their pc-hit space-based sandbox game, Space Engineers, has been released to retail s...
by Mikedot
BANDAI NAMCO Games Europe S.A.S. is excited to confirm that the Closed-Beta Test for GoD Factory: Wingmen began on yesterday for players world...
by Mikedot
Goliath: Summertime Gnarkness is now available for free to everyone who already owns Goliath.
by MissyS