Bounty Hounds Online releases closed beta update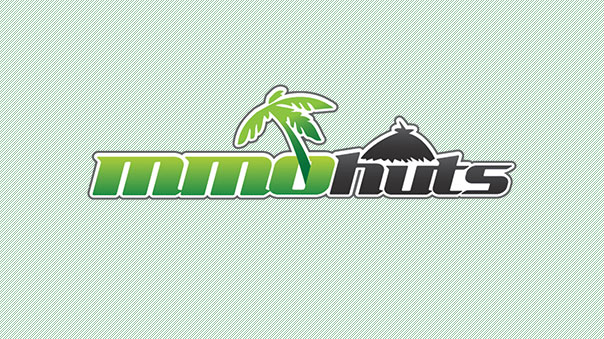 After taking in player feedback, Bounty Hounds Online has created and launched a patch to improve the closed beta experience.
The experience curve has been tuned down to improve leveling time, and experience loss on death has been elimintated. New gathering robots have been introduced to help players gather resources, reward points can now be earned and spent in the Emporium, and characters of any PMC may join up together in groups.  Titles have now been boosted so that each unlocks stat-boosting accessories from the Arms Badge vendor, and CTUs have new paint colors available. Player versus player has also been tuned so that only players between different PMCs, who have active PvP flags, can fight each other. Five new Cambria instances, new gang and wolfpack technology, and new mission events round off the update.
Bounty Hounds Online is published by Suba Games, which also publishes Mission Against Terror and ACE Online.
Bounty Hounds Online Gameplay Screenshot
Source:
Bounty Hounds Rolls Out Major Updates for Closed Beta

More Content, More Customization Part of Latest Closed Beta Update to Triple-A-Level Free-to-Play MMORPG Sequel to Namco Bandai Original

TORONTO, ON. November 15, 2011— Bounty Hounds Online (bho.subagames.com) the popular MMORPG sequel to the Namco Bandai original, boosts its status as a game that brings triple-A quality to the free-to-play genre with a massive updates to its closed beta rollout.

"The beta testers that have been part of the close beta will notice the updates immediately," said Sam Ho, Director, Wicked Interactive, publishers of Bounty Hounds Online. "We have been working hard with the developers to add new features as well as include suggestions from the Bounty Hounds community. We are thrilled with the results and know that our testers will be thrilled by the updates."

Updates include:
More Content
·         Five high-level Cambria Instances to challenge the most experienced and deadly mercenary teams. Obtain unique Stat and Resistance-enhancing equipment. During open hours, Mordechai at the PMC Headquarters will teleport you straight in to the action.

·         More gang/wolfpack technology added. Receive powerful stats bonuses every day.

·         New missions and events. New level 35 mission in the Wastelands giving a stat reset item. New level 40 mission in the Wastelands giving a skill point reset item.
More Personalization
·         The Titles gamers have worked hard to earn mean something: they now unlock unique stat-boosting accessories, available from the Arms Badge vendors.

·         Trick out your CTU with more paint colours available –  no two CTUs need ever look the same.
More Convenience
·         The XP requirements for levelling have been adjusted so you'll spend less time grinding, and more time doing what you want. Numerous low-level quests have had their requirements adjusted to improve game flow.

·         Why spend time gathering your own resources? Use gathering robots at the PMC Headquarters to harvest craft materials for you while you concentrate on the mission. The number of robots useable simultaneously and the tier of resources they can harvest are tied to your gang/wolfpack skill tree.

·         Get equipped: certain items in the Emporium can now be purchased with reward points, earned daily and weekly for R&D, missions, and instances. The more you play, the more you get!

·         Team up: now characters of any PMC can join forces to take on tough assignments.

·         Player-vs-Player combat is now only possible between members of different PMCs. Only players with PvP flags activated are eligible to fight. This means only those who want to fight other players will do so. The PvP flag will be turned off automatically after resurrection.

·         Fight without fear: XP loss on character death has been eliminated.
Next Article
With over two million copies sold to date, Bohemia Interactive today presented its plans for their tactical military shooter Arma 3 in the nex
by MissyS
HeroCraft are thrilled to announce that a new open world action RPG game in the pirate setting, Tempest, is now available on for iOS/Android.
by MissyS
Today, Warner Bros. Interactive Entertainment released two new Champion Profile videos for Infinite Crisis. The new videos give fans an in-dep...
by MissyS