Bless Online Details 70v70 PVP – Siege of Castra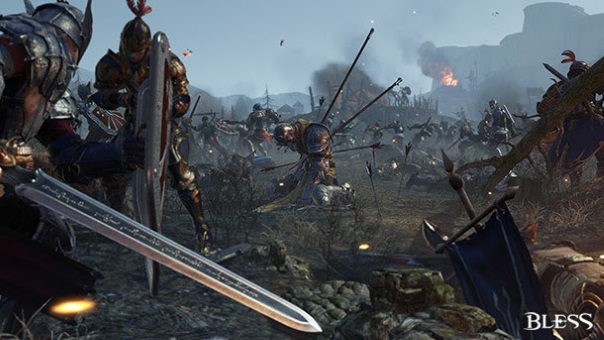 Yesterday we learned about a new PVP mode on the way to Bless Online. They're also working on issues that are players are pointing out, they also want to show off some of the upcoming content coming to the game. With that, they revealed "Siege of Castra", which will have a launch date announced in a future post on their Steam Community page (and also here). Siege of Castra is a 70 vs. 70 (70 per faction) and will be available soon. All players above 25 will be able to enter the battle, and it will be on the War (B) Battlefield list. Once on the battlefield, they'll be entered into their side's military, and the war lasts for 30 minutes. Victory is achieved by defeating the enemy commander who is located in the opposing military base, but it won't be easy to get there. If neither leader is beaten, it will end in a tie.
In the middle of the map, there's a great tree, the Purifying Tree, which if your faction holds it, grants a boon to aid you in battle. The vindictive spirit of the tree will rise, and is unstoppable while it charges towards the enemy fortress. It focuses only on the enemy fortress and their leader, so it's imperative that this tree is claimed and protected. Those on the defending side must pick whether they fight and kill the spirit directly or if they'll use the Guardian Stone. It will spawn on one of the two paths, and defeating it will also defeat the Spirit. There are also mobile artillery locations in front of each faction's base to help fend off invaders, and Ranking in the PVP mode is through activity points. Players can also earn medals by completing achievements, and the final reward is determined by activity point score and medals earned.
Reward for playing the Siege of Castra once:
If victory is achieved (the player's faction successfully eliminated the enemy commander): 400 Combat Points, 100 Quest Performance Points
If the war ends in a tie/defeat (the player's faction failed to eliminate the enemy commander, or their own commander was eliminated): 150 Combat Points, 35 Quest Performance Points
Siege of Castra Quest Completion Reward:
700 Combat Points, 30 Crystallized Magical Power
Next Article
Duelyst will launch its first full expansion, Denizens of Shim'zar, on August 30.
by MissyS
EverQuest will be launching Rain of Fear, its 14th expansion, tomorrow.
by MissyS
Gazillion announced today that new content inspired by Spider-Man: Homecoming has arrived for Marvel Heroes Omega on PlayStation 4 and XboxOne
by Ragachak