AVerMedia Debuts 'Dream Streamer 2018' Program to Find The Next Great Gaming Streamers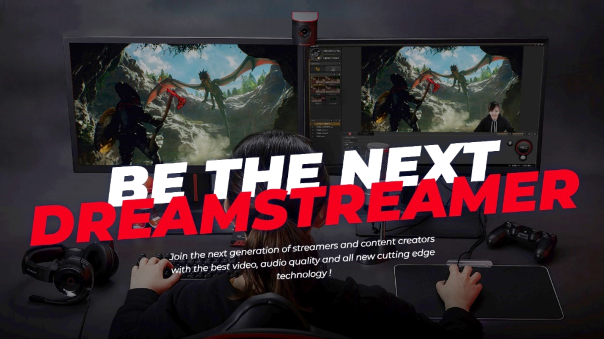 They also want to hook those streamers up with insane rigs. AVerMedia partnered up with hardware leaders like CyberPowerPC and CoolerMaster to put incredible hardware in the hands of gaming influencers. The Dream Streamer 2018 competition is a community-oriented casting call program to put 4k-capable streaming machines in the hands of rising star gaming content creators. This will culminate at Twitch Con 2018 in San Jose, CA, where the grand prize winner will be announced.
Game streaming is one of the fastest growing entertainment sectors, with over 100M monthly users on Twitch alone and thousands of new content creators vying for attention each day. In conjunction, PC and next-generation console gaming are increasingly moving to stunning 4K visuals that require powerful PC rigs and cards like AVerMedia's Live Gamer 4K UHD lineup to capture in their full glory. To help the best new creators get the dream rig they need to take the next step in streaming, AVerMedia and fellow hardware companies are teaming up to roll out Dream Streamer 2018. The competition will give deserving content creators with fewer than 10,000 followers a platform to showcase their skills and win a Dream Streamer 4K game capture rig grand prize, exclusive streaming opportunities, and additional prizes.
Interested parties can sign up in the link below, and the competition will have two rounds, starting with an online qualifying round. This will feature a video showing their  Dream Streamer skills and aspirations uploaded to the competition page, and shared through the official #dreamstreamer hashtag. The final round, which will be hosted at TwitchCon 2018 in the AVerMedia booth, #1048, where qualifying creators can use the Dream Streamer 4K rig to record and stream 30 minutes of gameplay and commentary as their final round submission.
"Our goal with the community-driven Dream Streamer 2018 program is to empower up-and-coming content creators with a chance to win the same advanced 4K-capable systems the pros use while gaining exposure for their channels," said David Kao, Marketing Director of AVerMedia. "We invite content creators who want to show off the best quality gameplay and futureproof their streams to sign up today and use the #dreamstreamer hashtag to tell the world why they should be the first Dream Streamer!"
More details about Dream Streamer 2018 will be revealed at TwitchCon 2018 and on the official page at AVerMedia Dream Streamer Page in the coming days
Next Article
EVE Online: Mosaic Update Available - Tons of new features available
by Mikedot
The latest free update to Cabal 2, called "AI ASCENT" brings an increased level cap, new player skills, and much more.
by Ragachak
Neverwinter: Elemental Evil will bring an increase to the level cap, the Oathbound Paladin playable class and new adventure zones
by Mikedot