AbleGamers Teams Up with NY State Senator for G.A.M.E. Day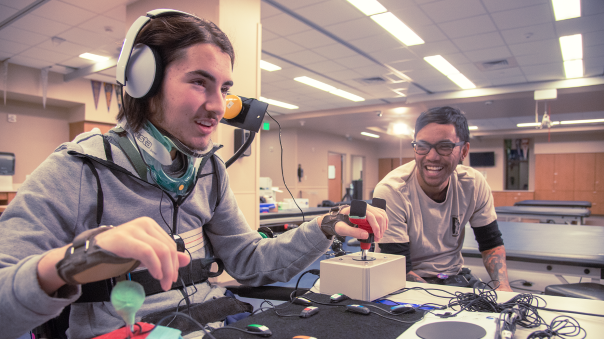 Press Release
The AbleGamers Foundation — the leading charity that advocates for the power of video games as a means to breaking down barriers of economic and social isolation for people with disabilities — is thrilled to announce today that they have partnered with New York State Senator Roxanne J. Persaud to present Game Accessibility Means Equality (G.A.M.E.) Day on May 16, 2019. The event will be hosted at Brookdale University Hospital Cafeteria in Brooklyn, New York, and will feature hands-on demonstrations of the latest accessibility technologies and discussions featuring Senator Persaud and AbleGamers leadership about issues affecting those with disabilities — and how video games can be a central part of their solution.
"It's such a great honor to partner with Senator Roxanne Persaud," said AbleGamers COO Steven Spohn. "Game Accessibility Means Equality Day is the first time AbleGamers has been part of a state proclamation. I can't tell you how much that means to us! Together with Senator Persaud, we are telling the world that game accessibility is not only important, but here to stay."
New technological advancements — many created in partnership with The AbleGamers Foundation — allow people to enjoy video games despite their physical limitations. As part of G.A.M.E. Day, media and members of the public are invited to enjoy demonstrations of some of the latest video game related assistive technologies — including the Xbox Adaptive Controller — and to meet the accessibility experts making dreams come true for people with disabilities.
"Our entire mission is to defeat social isolation and create play," said AbleGamers Founder Mark Barlet. "Senator Persaud really sees our vision to utilize video games to bring people with disabilities into amazing communities like the one she represents. We're so proud to be supporting the Senator in bringing more accessibility to New York so everyone can game."
New York Senator Roxanne J. Persaud is a renowned advocate for women's rights and a fierce champion in the pursuit of the many challenging social issues affecting New Yorkers. For this event, Senator Persaud has partnered with the AbleGamers Foundation to highlight the significantly positive role video games can play in the lives of those with disabilities and to celebrate advancements in accessibility throughout interactive entertainment.
"People with physical disabilities enjoy playing video games just as much as able-bodied individuals," said New York Senator Roxanne Persaud. "Often times, their limitations prevent them from using mainstream gaming devices. We want to show these gamers the possibility of fully enjoying the games they love with the technological advancements in gaming. My goal, parallel with AbleGamers, is to spotlight the fact that disability does not equal inability. I cannot thank AbleGamers and Brookdale Hospital enough for partnering with me on this motivating and uplifting evening for our community!"
AbleGamers and Senator Persaud will be at Brookdale University Hospital Cafeteria in Brooklyn, New York, from 4 to 6 PM EDT on May 16, 2019. Advanced registration is required. Those interested in attending can register by calling 1-518-455-2788. To learn more about the event, please visit https://uberstrategist.link/GAME-day-NY-register.
A new update is coming to Legacy of Discord: Furious Wings which will enrich the weapon and guild system in new ways.
by Ragachak
Rumors of Blizzard's new MMORPG have leaked! The folks behind World of Warcraft have been working on a new MMORPG that's rumored to ...
by Guest
A lot of player feedback has come through to Wizards of the Coast to prepare and development for Magic: the Gathering Arena.
by Ragachak