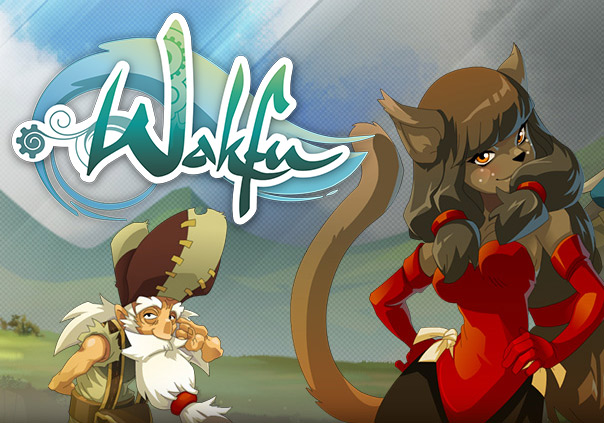 Wakfu is a free-to-play tactical MMORPG with an emphasis on humorous storytelling.
Classes
Feca's Shield, Osamodas' Whip, Enutrof's fingers, Sram's Shadow, Xelor's Sandglass, Ecaflip's Coin, Eniripsa's Hands, Iop's heart, Cra's Range, Sadida's Shoe, Sacrier's Blood, Pandawa's Pint, The Rogue Ruse, The Masqueraiders, Ouginak's Rage, The Foggernaut's Steam, Eliotrope's Portal, and Huppmage's Rune
Features
►Real time exploration coupled with turn based combat where tactics are the key to victory.
►Extensive selection of professions, including farmer, chef, lumberjack, handyman, and many more.
►Wide range of character customization options
Microtransactions
Yes – In game currency, Ogrines, Boosters, restricted races, cosmetics
Expansions
Wakfu has seen several updates over its 6 years in operation. They can be viewed here.
Status: Released
Release Date: Feb 29, 2012
Business Model: Free to Play
Developer: Ankama
Publisher: Ankama
Category:

Stand-alone

Genre(s):

3D, MMO, Adventure, RPG, Fantasy, Strategy, Simulation

Platforms:

PC, Mac, Linux, Steam


Editor's Score: 4/5

Pros:

+Over 14 starting classes to choose from.
+Interchangeable professions.
+Extensive political system.
+Complex, changing world.
+Open sandbox feel, very player-driven.

Cons:

-Repetitive turn based combat.
-Lots of grinding.
-Character customization limited.



Recommended System Requirements:

OS: Windows XP SP3 or higher
CPU: Intel Core 2 Duo or equivalent
RAM: 2 GB
GPU: GeForce 6 series or equivalent
HDD: 2 GB



Description: Wakfu is a 2.5D fantasy themed strategic MMORPG based in the same world as Ankama's Dofus. Players get to revisit the infamous World of Twelve as a reincarnated hero on a mission to help bring their now ruined land back to its original glory.
Red 5 Studios today announced that its free-to-play open world shooter, Firefall, will enter Open Beta on July 9, 2013.
by MissyS
Sword Art Online Memory Defrag is a free-to-play, action oriented, unit collecting game for the Android and iOS.
by Ojogo
KoramGame has announced the start of closed beta registration for its upcoming MMORPG, Spirit Tales (st.koramgame.com).
by MissyS