Top 10 Best Fantasy MMORPGs / MMOs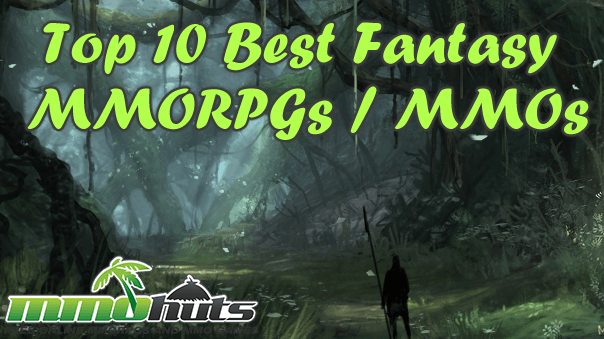 Fantasy has been one of the most popular genres of MMORPGs since the birth of the MMO, catering to our love for story, swordplay, and sorcery. As one of the most common types of free-to-play MMOs, it can be challenging to sort through them and find the best. We've looked through our reviews, user ratings, and other data to compile this top ten list to offer you several chances to discover new adventures waiting for you!
---
#1 – Guild Wars 2
Guild Wars 2 is a fantasy MMORPG from ArenaNet and NCSoft. There's no denying that Guild Wars 2 has been one of the best fantasy MMOs available since its release in 2012, but it hasn't been until the 2015 surprise free-to-play release that MMOHuts has been able to include this top-quality MMORPG in our top lists. Guild Wars 2 ("GW2") offers five playable races, eight core classes, multiple races, hundreds of hours of PvE content, intense server PvP, and extensive character customization. The Heart of Thorns expansion (if purchased) adds an additional class, content area, and raids.
One of the greatest features for RPG fans is Guild Wars 2's Living Story, a seasonal event in which episodic story content and special events not only offer additional content throughout the year, but also shapes and changes the overall game story and zones over time. Weapons offer a variety of gameplay options for each class and there is an extensive cosmetic and crafting system. While the game certainly has its flaws, such as limited skills and end-game content, GW2 still offers a massive amount of quality content, including competitive PvP, for free.
---
#2 – Path of Exile
Path of Exile (from Grinding Gear Games) has been a long-time favorite among the MMOHuts staff for a number of reasons. This free-to-play ARPG caters to the hardcore, old-school style action RPG that players are used to from the early Diablo series. While classes are gender/appearance locked, customization is infinite within a massive, branching passive skill tree and the ability to choose your own skills through the use of socketed gems. Regular updates, including seasonal PvE and PvP competitions, keep the game constantly fresh with new challenges that eventually become integrated into the core game.
On top of an intense classic ARPG experience, Path of Exile offers free-to-play done right. There are no pay walls or pay-to-win features in POE. Microtransactions only offer cosmetic options (mini pets, spell effects, and armor which are usable account-wide) and additional storage space. The fact that the game makes its money off an almost completely cosmetic cash shop and has been succeeding and growing for years now is testament to the game's quality and community.
---
#3 – Trove
At first glance, Trove, a fantasy sandbox MMO published by Trion Worlds, looks like a Minecraft clone with tiny voxels, but this MMO delivers far more than that. Trove combines easy-to-learn action combat with a fantasy world, procedural generation, and player created content to create an incredibly fun, flexible experience. The game adds new classes frequently, all of which can be unlocked through in-game currency. Randomly created worlds mean endless adventure, and player creations – both items and dungeons – are frequently incorporated into the game.
Trove is friendly to solo players and group players, and gives everyone a mobile and customizable home space – plus players can create club worlds which can become permanent areas completely customizable by their owners. Even if you're not interested in building, there's plenty of adventure to be had, loot and even rare mounts and pets to be obtained, without the stress of a paywall.
---
#4 – Neverwinter
Neverwinter, an action fantasy MMO from Cryptic Studios/Perfect World Entertainment, takes the beloved city of D&D fame and rebirths it into a free-to-play MMORPG. With action combat elements, simplified rulesets, and constant new content, Neverwinter manages to capture the Dungeons & Dragons experience and breathe new life into an old story. Not only does the game offer a great depth of content, but it remains constantly new with the ability to create player quests and dungeons.
---
#5 – RIFT
Rift is a tried-and-true classic MMORPG published by Trion Worlds. Originally pay-to-play, Rift is now free-to-play but features all the quality you'd expect from a large developer. One of the things that makes Rift unique is its class system, which allows players to build their own archetype by picking and choosing from a multitude of talent trees – allowing an impressive amount of customization. The game also tells an impressively large story spanning two factions and many elemental planes. If you're looking for a full-fledged MMORPG that's continuing to grow, Rift's worth the download.
---
#6 – Vindictus
With impressive character visuals and a dark fantasy storyline, Vindictus, published by Nexon, has become a cornerstone of the free-to-play action MMO community. Vindictus delivers fantasy eye candy – oversized weapons, underdressed heroes, horrible monsters, and imaginative dungeons. While the quests and combat can get repetitive, the game delivers an impressive dungeon crawling experience.
---
#7 – TERA
TERA from En-Masse Entertainment definitely gets weird sometimes, with lingerie costume packs and child-like car mounts among its more bizarre customization options. Still, the game offers some exciting action combat, a friendly community, and a stunningly beautiful world. It's a Korean fantasy MMO at its finest.
---
#8 – Skyforge
Skyforge from Obsidian Entertainment and My.com is a new contender, but since its open beta launch it's been releasing strong, story-driven content on a regular basis. Like others on this list, Skyforge has a good action-combat system that keeps gameplay energizing. It has inventive ideas, a variety of activities with a PvE and PvP focus, and really makes you feel like an immortal striving to become a god. Unfortunately the game does suffering a little from grind and repetition, but perhaps we'll see changes to those systems over time.
---
#9 – Wakfu
If there's anything Ankama is good at, it's world-building, and Wakfu is evident of their creative output. A turn-based, sandbox-style MMO with a complex combat system, Wakfu lets you really get immersed into an extensive fantasy tale while creating your own path. The game even boasts its own political system, where you can be elected and have control over part of the game's economy, and each server becomes a different place based on the actions of its players.
---
#10 – ArcheAge
Rounding out the list of our top ten fantasy games is ArcheAge, published in the west by Trion Worlds. ArcheAge offers an in-depth fantasy experience: a story wrapped in magic and war, housing, sandbox elements, PvP, an open world, and a political system. It's almost everything you could ask for. Unfortunately the game struggles with community problems and a pay-to-win attitude that can dampen your enthusiasm if you want to get the full game experience.
---
Looking for our 2009-2010 Top 10 list? Find it here.
Next Article
Duelyst, the collectible tactics game from Counterplay Games, will officially launch on April 27, 2016.
by MissyS
GTArcade announces a new group buy event, hero and mount upgrades, and a cross-server tournament for League of Angels.
by MissyS