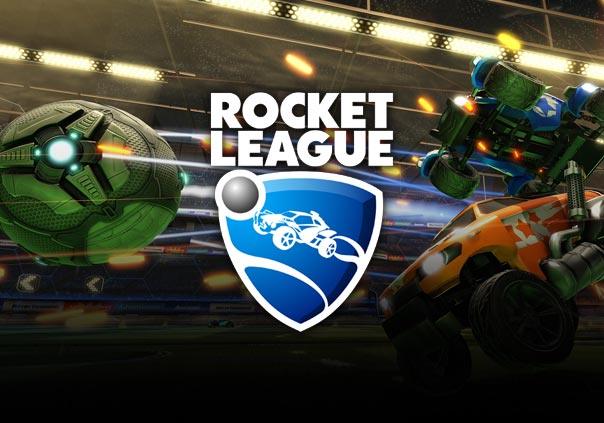 Rocket League is a buy-to-play physics-based vehicle sports-action game by Psynoix available for purchase on Xbox One and PlayStation4, as well as PC, Max, and Linux on Steam. As the Supersonic Acrobatic Rocket-Powered Battle-Cars, players can race around at lightning fast speeds in their vehicles while playing a game similar to soccer.
Every vehicle is equipped with huge rocket boosters, which means you'll literally be able to fly around the battlefield when need be. Make some quick plays on the ground to juke out your opponents and pass to your teammates, or take to the skies to deliver a powerful aerial shot to the ball. You'll need to be on your toes if you don't want to get out-positioned in this game! Don't think you'll just be on the offensive either, because you've got a goal to keep the ball out of on your end of the field! Perform ground and aerial blocks to prevent your opponents from scoring and clear the ball up the field for your allies to take control of.
Rocket League now includes a variety of game modes for you to play in, which includes offline play against bots or split-screen with friends. Game modes include:
Season Mode –  A singleplayer career-like mode for players that prefer to play by themselves.
Solo, 2v2, 3v3 – Both ranked and unranked matches of various team sizes.
Solo Standard – Ranked 3v3 with random teams (no parties allowed)
Chaos – Unranked 4v4
Hoops and Snow Day – Specialty unranked matches
With an advanced physics system to simulate real interactions and the ability to control your car with rockets, the maneuvers you can do are only limited to your imagination. Fly, block, flip, and shoot your way to victory in Rocket League!

Status: Released
Release Date: Jul 05, 2015
Business Model: Retail
Developer: Psyonix
Publisher: Psyonix
Category: Stand-alone
Genre(s): 3D, Sports
Platforms: PC, Linux, Steam, Xbox One, PS4

Editor's Score: 5/5

Pros:

+Content worth the value.
+Loot boxes are only cosmetic.
+Very unique, action-packed gameplay.

Cons:

-Flying has a big learning curve.
-If a player leaves a match, it is very difficult to still win.



Recommended System Requirements:

OS: Windows 7 / Mac OSX 10.8.5 or newer
CPU: 2.5+ GHz Quad core
RAM: 4 GB
GPU: NVIDIA GTX 660 or better, ATI 7950 or better
HDD: 7 GB



World of Tanks Launch Review
World of Tanks is an easy to approach, tank-based shooter that has layers of depth to unravel. Quickly jump into massive 30v30 battles!
by Guest