Rocket League Rumble Mode Available Today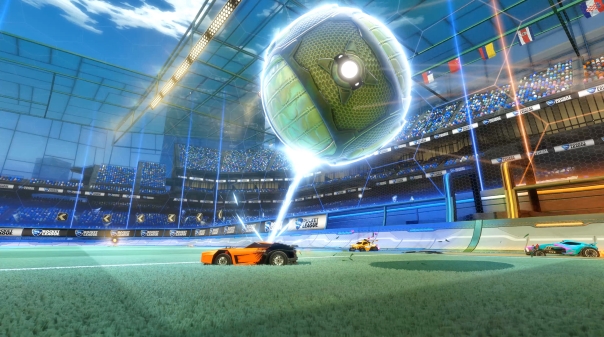 Independent video game developer and publisher Psyonix, is pleased to announce that its chaotic new Rocket League Rumble mode will be available for download today. This free new mode gives players access to 11 randomized power-ups, including the "Magnetizer" (a sustained force that attracts the ball to your car), the Plunger (a ripcord-like attachment that snaps the ball to your position), the Freezer (which freezes the ball in-place), and plenty more.
Like the "Hoops" and "Mutator" modes before it, Rocket League Rumble will appear in Online Playlists, and also will be available in both Private and Exhibition matches.
The complete list of power-ups includes:
The Boot (Kicks an opponent's car)
Disruptor (Forces the opponent to drive uncontrollably)
Freezer (Freezes the ball in-place)
Grappling Hook (Pulls you toward the ball)
Haymaker (Punches the ball)
Magnetizer (Attracts the ball to your car)
Plunger (Snaps the ball to your position)
Power Hitter (Hit everything harder)
Spike (Attach the ball to your car when you bump into it)
Swapper (Change positions on the field with your opponent)
Tornado (Sweep up the ball and cars into a giant funnel cloud)
Next Article
The Chult Storyline comes to a close as Neverwinter's Lost City of Omu expansion arrives on console.
by Ragachak
KILL3rCombo, publisher of the hit free-to-play action MMORPG Elsword<i>,</i> revealed its new job path, Little Devil, for the late...
by Mikedot
iPhone MMORPG Fantasia coming to the West. The game was developed in South Korea a company called Lemon.
by Guest