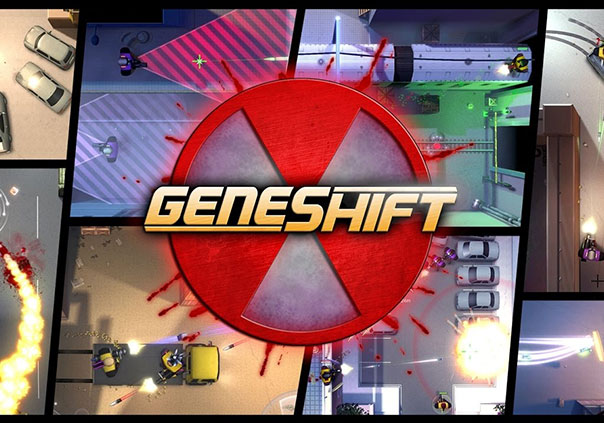 Geneshift is a top-down shooter developed by Nik Nak Studios for PC, Linux, and is available on Steam Early Access. In Geneshift players can experience brutal gunplay, insane vehicle action, and all of the perks of becoming a mutant!
Whether you're looking for online combat, a singleplayer campaign, or something in between Geneshift has you covered. In campaign mode players can save the world from a mysterious zombie outbreak all by themselves, or co-operatively with their friends. You'll need to gun down tons of zombies and the enemy Rebel forces trying to stop you from stopping the outbreak. Different skills, weapons, and vehicles can be unlocked as you progress and you can even earn some cash along the way to purchase even stronger equipment to help you take on tougher foes. Different chemicals can also be used as you play and placed on the ground to provide long-term benefits during combat. The trick is that your enemy's chemicals are invisible, but if you can determine where they might be you can try to neutralize them so they no longer provide your foes with benefits.
If you're feeling extra competitive you can take to online multiplayer matches where you can battle against other players in a variety of game modes like Capture the Flag, Checkpoint Racing, Zombie Survival and more! Gameplay is similar to the singleplayer campaign in that you will use vehicles, weapons, chemicals, and skills to eliminate your enemies while trying to complete the objective of the game type. Cash and experience will be awarded as you gun down enemies and in turn can be used to buy weapons, vehicles, and chemicals or upgrade skills.
The zombie outbreak is spreading and is becoming a serious threat to the world. Work with your allies to stay safe, eliminate zombies, and neutralize the outbreak in Geneshift!
Status: Pre-Release
Release Date: May 23, 2017
Business Model: Free to Play
Developer: Nik Nak Studios
Publisher: Nik Nak Studios
Category:

Stand-alone

Genre(s):

3D, RPG, Shooter

Platforms:

PC, Linux, Steam



Recommended System Requirements:

OS: Windows 10
CPU: 2.5 GHz multi core processor
RAM: 4 GB
GPU: 1024MB. OpenGL 2.0+ recommended.
HDD: 512 MB



Description: Geneshift is a top-down shooter where a zombie outbreak is spreading and becoming a worldwide threat. Fight with your allies while using your mutant powers and lots of weapons to save the world from the mysterious outbreak!
Masthead Studios, a leading independent game developer, today introduced new arena in their online shooter Guns and Robots.
by Mikedot
Today marked the livestream and reveal of Smite's Patch Notes for Patch 3.6: Escape from the Underworld.
by MissyS