Overview
Asda 2 Overview
Asda 2 is the second installment to the popular Asda Story. It picks up where the original game left off with a truce being finalized between the warring factions. Unfortunately the peace is short-lived. Violence has once again erupted among the Light and Dark causing chaos within the realms. Players must choose their side and begin their journey towards knighthood. Fight in PvP duels or large scale faction based wars. Collect and summon a variety of pets to aid in battle. Similar to Legend of Edda players determine their own destiny as an emerging hero. Stop the ongoing hostilities from ruining a beautiful world.
The game has vastly improved with new classes, multiple jobs, challenging monsters, and an enhanced soul mate system.
Classes:
One-Handed Sword Warrior – Equipped with a one-handed sword and shield this class has the highest level of defense. Capable of inflicting serious levels of damage to foes warriors are ideal tank leaders. Jobs vary from traditional Swordsmen to Templars.
Two-Handed Sword Warrior – This class is notorious for destroying their enemies' defenses. Special skills that cause damage reflection or additional weapons such as the grenade set them apart from other heroes. Available jobs include Barbarian and Warlord.
Spear Warrior – Weapon of choice is the mighty spear. Speed enables these warriors to perform multiple critical blows rendering their opponents helpless. Their high levels of sheer strength make them a mage's worst nightmare. Class jobs vary from Lancers to Gladiators.
Crossbow Archer – Archers are capable of the highest amount of immediate damage among all the classes. They also possess skills that deflect enchantments making them a nuisance to mages. Jobs include Shooters to Marksmen.
Bow Archer – Uses an assortment of weapons to delay an adversary's movement and inflict wounds that will cause them to slowly bleed out. Weakening their opponent is their specialty. This class is deadly to warriors during battles. Jobs range from Trapper to Ranger.
Attack Mage – Attack Mages use darkness and the element of fire to take down opponents. Various flame engulfing spells make them a great ally to have in a party. Perform jobs titles of Magician to Warlock.
Support Mage – This class performs spells associated with earth and water. They are also great at providing buffs or protective shields for their fellow comrades. The ability to freeze enemies gives them an edge in dire situations. Jobs range from Mystics to Guardians.
Healing Mage – Healing mages can manipulate climate and the powers of light to help heal friends. Their undeniable healing abilities make them a must have addition to any party.
Asda 2 Screenshots
Asda 2 Featured Video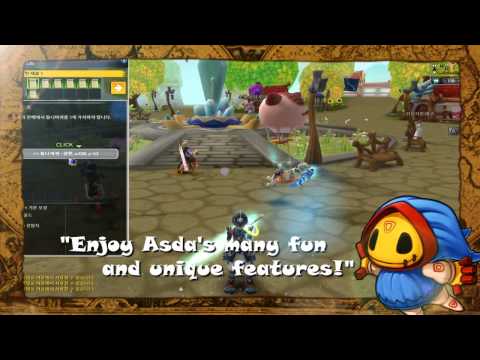 Full Review
Asda 2 Review
By Ange Perdu
Asda 2 is a 3D fantasy themed MMORPG where players become knights fighting in a war between Light and Dark. As a sequel to GamesCampus' Asda Story heroes enter an enchanted world that's slowly falling apart. The truce established in the previous installment has been broken and now the fate of the universe rests in the hands of an unknown warrior. Players have to complete an assortment of quests, slay hordes of troublesome creatures, and battle others if PvP duels. Summon pets to assist in combat and partake in massive faction based wars. Although Asda 2 is similar in gameplay to its predecessor it has a wider range of classes, jobs, monsters, and a more advanced Soulmate system. The additional features along with the continuation of the storyline give new and devoted fans of the series a second chance to enlist with the Royal Knights.
Becoming a Royal Knight, the Gameplay
To become an honorary Royal Knight heroes must complete numerous quests. NPCs located in the town will delegate various tasks that range from relaying messages back and forth to preventing Nihil's followers from attacking innocent villagers. Some missions involve obtaining ingredients for antidotes, surveying machinery, defeating monsters, or more specific missions like eliminating the Wicked Parasol before it commits any evil. There's also a quest board situated in the center of the village with daily repeatable quests depending on a player's current level. Collect weapon upgrade shards or kill 50 red wolves. These bonus missions can be done up to 10 times. Completing them will generate large sums of XP. It's a convenient feature that assists in leveling. Most of the quests involve killing mythical creatures. There's a surprisingly large assortment of monsters in the Asda Empire. Despite their generic names each beast has a unique appearance and can be quite challenging in battles. Fight wrench wielding ducks, backpack carrying canine, pinball shaped leaf creatures, and stonewalled giants. The combat is relatively fast paced. A quick click on an opponent will initiate an attack. Spells and special moves can be performed by pressing the designated hot keys. Successfully defeating a monster often provides coins, XP, and an occasional item. Pets can also be summoned to assist in brawls.
Summoning Gangtos
The game's pet system allows players to not only collect multiple companions but have them at their disposal during difficult battles. Pets vary from extremely adorable Lion Dogs to intimidating Fire Golems. Each pet has its own set of stats, food requirements, and level that a hero must reach before the hatching process takes place. Acquiring pets can be a tedious task. Eggs have to be found and then hatched using an incubator. When killed certain monsters drop pet egg boosters. It takes a considerable amount of grinding to stumble across a creature holding the right goods. Once gathered heroes must purchase an incubator from one of the NPC shops. Incubators are major purchases they usually cost 10,000 coins or more. Hatching an egg doesn't always result in a pet. Sometimes it's a dud and players have to start their search for eggs all over again. There are almost a dozen different pets available. Collect Duckwrench, Ziproll, Puchrat, Vesper, Woodpickle, Patchcat, and Gangtos as companions. Leveling increases their size. It's interesting to see them grow alongside your character. Pets can be switched and summoned at will which can be handy during PvP duels.
On the Battlefield
Similar to Legend of Edda at any time another player can challenge a knight in a duel. Once accepted PvP duels start within a few seconds. A short countdown begins allowing heroes the opportunity to position themselves or change weapons if needed. The game features a nice variety of classes with job tiers enabling players to master different skills and spells. During combat these moves can be performed to defeat enemies swiftly. Toss a blade overflowing with magic energy towards foes, roar loudly to boost your spirit level and stats, or merge with the wind to increase speed temporarily. When the battle is over the winner earns experience and rank. Scheduled faction wars held daily also. The faction wars in Asda 2 are extremely fun. When a notification streams across the screen players can quickly register and participate. There's no long drawn out waiting period or lengthy requirements. Gamers that enjoy PvP are able to get their bloodshed fix with minimal hassle. Teams are divided by factions. Knights are either on the Light or Dark side. Once everyone has entered the battlefield the war begins. Players must protect their towers while conquering the other team's bases igniting a player killing frenzy. When the timed war ends the team occupying majority of the towers wins. Participating in wars earns coveted honor points and massive amounts of XP.
A Soulmate's Whisper of Resurrection
Players are also able to find love in the Asda Empire using the Soulmate system. In the character tab an introduction section allows knights to post a description of themselves and what they want in a partner. The message will be displayed in the Soulmate search window area. Warriors and mages can easily find each other by browsing the listings. Click to send an invite. Once accepted players become a couple which can later lead to marriage. Soulmates provide heroes with various skills and buffs. They also increase the overall strength of their clan as a whole. When a player is in trouble their sweetheart can instantly heal them. If they are located in different areas their partner can perform the long distant spell the Whisper of Resurrection allowing them to fight another round. Soulmates are granted entrance to special instanced dungeons as well. Couples and friends can chat, dance, and kill monsters together. Knights are able to fish and go digging for items also. Purchase rods and various forms of bait to catch fishes lurking in the lakes scattered throughout the realms. Sell fish or trade bounties with others. Another feature implemented to break up the monotony of traditional gameplay is the dig option. Warriors can pull out a shovel and randomly start digging for buried rare items.
Swords & Costumes
Items are usually acquired by completing quests, digging, or through one of the various NPC shops. There's a wide assortment of weapons and gear to choose from. Purchase the Wood Spear, Fierce Steel Blade, Candy Smash, Gothic Sword, Smashir, War Pick, Partisan, Assault Polearm, Kether Knife, Ruby Coating Blade, Stalker's Longbow, Strongiron Crossbow, Elixir's Bow, Pin Lightening Bow, Wood Stick of Faith, Staff of Concentration, or Stick of the Dark. Most of the weapons are priced relatively high averaging anywhere from 20,000 to 180,000 coins. NPC shops also carry potions and gear. Buy the Sandstorm Cuirass, Magical Rune Pattern Shirt, Ancient Guardians Gauntlets, Gloves of Blue Breathing, Hell Butterfly Tasset, Steel Blood Necklace, and Knight's Shield. Mounts and cool motorized vehicles like the Hover Board, Cat Balloon, Dragon Doll, Vortex, Blue Hatchling, or Set of Flame Wheels are available too. These items are only accessible temporarily. The Web Mall has an extensive list of items that allow users to customize their characters if they are willing to spend real money. There are a variety of elaborate costumes with themes ranging from Polynesian to the Three Musketeers. Players can buy bunny vehicles, cute pet costumes, and wacky accessories like gold antennae or a gentleman's moustache. All of the items in the Web Mall require coupons that are not earned in the e game in order to purchase. Other minor changes like hairstyles also cost coupons making it slightly difficult for players to fully customize their characters.
Final Verdict: Great
Asda 2 is a solid MMORPG that's as equally fun as it is addicting. Players become dedicated knights battling for their chosen faction fighting hundreds of menacing monsters as well as others in PvP duels. Tackle an endless array of quests on your hero's journey into knighthood. Explore the Asda Empire with a party or the perfect Soulmate earning buffs along the way. Similar to Legend of Edda there's plenty of PvP action. Participate in frenzied faction wars scheduled daily. Collect and summon a variety of pets to aid in battle. Avid fans or players new to the genre will find this standalone sequel definitely worth playing.
Screenshots
Asda 2 Screenshots
Links
Asda 2 Links
System Requirements
Asda 2 Requirements
(estimates)
Minimum Requirements:
OS: Windows XP
CPU: Intel Pentium 4 2.8 GHz
RAM:  512 MB
HDD: 6 GB Free
Graphics Card: nVidia 6600
Recommended Specification:
OS: Windows XP / Vista / 7
CPU: Intel Core 2 Duo 2.3 GHz or better
RAM: 2 GB or more
HDD: 10 GB Free or more
Graphics Card: GeForce 9400 GT or better
Asda 2 Articles