Forge of Gods 4th of July Guardians of the Universe DLC Pack Giveaway
MMOHuts has partnered with Panoramik to give out awesome new Forge of Gods Guardians of the Universe DLC to celebrate the 4th of July!

GODS are not born, they are made by YOU! Join the action in this highly addictive multiplayer card strategy RPG "FORGE OF GODS"! Collect and train as many monsters as you can to assemble the greatest team and burst through hordes of enemies in this thrilling, addictive and fast-paced game! Conjure powerful dragons, sturdy warriors and exotic beasts to fight for you in the land of Pangea!
Are you ready for thrilling journey? The Guardians of the Universe Pack is a great choice for the true adventurer to get a quick start in Forge of Gods!
Guardians of the Universe Includes:
• Scorpion Warrior – incredibly powerful creature with max 7 stars.
• Three-headed Dog – dangerous demon that damages all enemies around.
• Magic Sprout – unique creature that buffs your beasts and debuffs the enemy's army.
• Orcish Witch – useful creature that increases attack to your beasts.
• Dead Orc – brutal fighter that stuns enemies
• 5.000.000 of gold for Fusion, Evolution and Rebirth of your fighters.
Rewards arrive following the tutorial.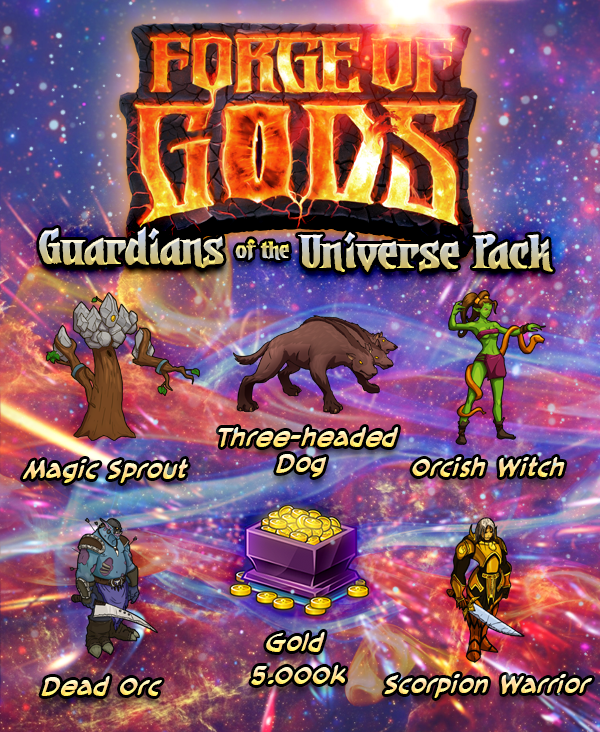 Are you ready for a thrilling journey? The Dragon Trainer Pack is a great choice for the true adventurer to get a quick start in Forge of Gods!
To Redeem your Key:
Launch the Steam client software and log into your Steam account.
Click the Games Menu.
Choose Activate a Product on Steam…
Follow the onscreen instructions to complete the process.
Note: Unfortunately ad blockers are breaking functionality of our site. if you experience any issues, please disable them.
Total keys: 10000 - Remaining keys: 7166
Claim a key by entering your MMOHuts forum username and password below. Don't have an account? Create an Account Here
Note: One key per person. To participate you must have an MMOHuts/OnRPG account.
Previous Giveaway