Vainglory Summer Season 2017 and Update 2.6 Arrive June 21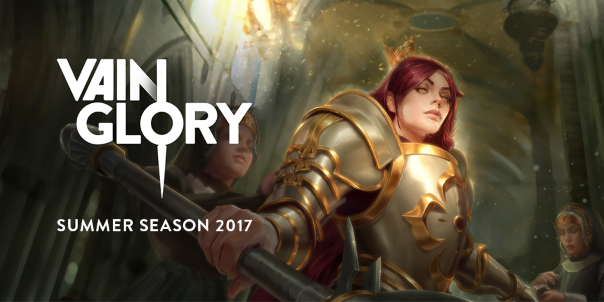 Super Evil Megacorp, creators of Vainglory, the world's leading mobile esport, is kicking off its Summer 2017 esports season tomorrow, alongside the launch of the game's 2.6 update. The competition this summer will heat up even more following North American team Cloud9's triumph at London's O2 during the first-ever Unified Western Live Championship. Vainglory's Update 2.6, which also launches tomorrow, will introduce new hero Grace, and new skins for Skye, Samuel, Koshka and Reim.
Also beginning with the Summer season that starts tomorrow and continuing through the remainder of Vainglory's 2017 esports calendar, ESL, the world's largest esports company, will produce regularly scheduled broadcasts of Vainglory's professional league, the Vainglory8, after the two companies joined forces in May to bring mobile esports to the iconic O2 for the first time ever. Vainglory8 Summer 2017 is one of the most anticipated seasons yet, featuring top performing teams from across Europe and North America such as the recently crowned Unified Western champions, Cloud9 and Team Solomid (NA), as well as Unified Western runners-up G2 esports and Fnatic (EU).  ESL's broadcasts of the Vainglory8 Summer 2017 Season kicks off this weekend from June 24-25. Viewers can tune into the Vainglory Twitch channel, YouTube channel, or Facebook page to check out all of the action.
Further raising the stakes leading into Worlds later this year, Vainglory welcomes ROX Armada of South Korea, previously Invincible Armada, to the Vainglory competitive community. The ROX Tigers, a professional League of Legends gaming team, are a powerhouse in the esports industry, making it as far as the semifinals in the 2016 League of Legends World Championships. ROX Orcas, a professional Overwatch gaming team launched in December 2016 and has already made strides in the competitive Overwatch scene. ROX Armada will be made up of some of Vainglory's top esports professionals, including World Champions Eutaek "Mango" Jeong and Hyeonjun "Druid" An, and new team member Junyoung "Engineeus" Choi. To celebrate the newly formed team, ROX Armada will premiere for the first time at the Amazon Mobile Masters Tournament Series in New York at KCON on June 23 against North American powerhouses, GankStars, Tempo Storm, Tribe, Cloud9 and NRG.
"As one of the top Vainglory esports teams in the world, we're excited to see Invincible Armada compete under the new banner of ROX Armada,"said Bo Daly, Co-Founder & President of Super Evil Megacorp. "South Korea is known for its dominance in esports and the Vainglory competitive scene is no different. With ROX Armada's roster at full strength, the upcoming East Asia competitive Vainglory8 season will be the most exciting yet."
Invincible Armada, now ROX Armada, most recently took first place in both the Vainglory8 East Asia Spring and Winter Championships. The team was also crowned the first-ever Vainglory World Champions in December 2016 at the TCL Chinese Theatre in Los Angeles. In previous seasons, Armada, won VIPL Season 3, the VGL Korea Summer Championship and the Samsung Galaxy Vainglory Invitational at E3 2016.
Vainglory generated incredible growth throughout the last year in terms of active players, esports views and overall community engagement. Vainglory tripled its active player community on Android and generated more than 450 million minutes of competition watched on streaming platforms, 1 billion matches played, and leagues in North America, Europe, Japan, China, Korea and Southeast Asia. Vainglory is forging the path for mobile games as they shift from short-session, standalone gaming toward deep, shared experiences.
Vainglory8 Summer season kicks off this weekend in the West from June 24-25. Viewers can tune into twitch.tv/vainglory to check out all of the action. Just prior to that, five North American teams compete against ROX Armada in Amazon's Mobile Masters tournament, streaming live at 10:30am ET on June 23 on twitch.tv/amazonappstore.  The East Asia Vainglory8 league in which ROX Armada will make their professional debut will kick off on July 1st local time. The Korean broadcast will be streamed on http://play.afreecatv.com/vainglorykr.
Next Article
SNOW is a realistic freeskiing simulator in the making, being brought to us by the 3-man team of Poppermost Productions. The game is powered b...
by DizzyPW
Today, V. 4.0 of Transformers: Forged to Fight by Kabam is now live! Act 3, Chapter 3 of the Story is unlocked!
by Ragachak
Trion introduces Steppes of Infinity, a new PvP map for RIFT's Conquest mode.
by MissyS