Uncharted Waters Online Industrial Revolution Update Live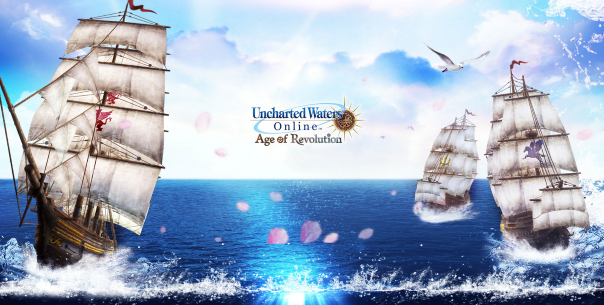 OGPlanet anchors down and unloads their next major content update at the ports of Uncharted Waters Online, the most expansive historical MMO currently in service. With this update, "Age of Revolution Chapter 1: Industrial Revolution", Uncharted Waters Online introduces the world to new innovations and change with revolutionized developments, new phenomena, aide fleet and unions, level cap increase, and more!
Time For "Industrial Revolution" in Western Europe
A new "Technology Development" system has been created in every nation, where exceeding a certain degree of development, will trigger an Industrial Revolution. New recipes become available, and requirements are minimized to increase production of goods.
Modern Firearms and Steam Engine
Advancements in technology have revolutionized weapons, introducing changes to both land and sea battles. With the help of the industrial revolution, players can craft various items such as crossbows and revolvers for their characters. Furthermore, voyagers can expand their ship's arsenal with flame throwers and gatling guns, or even install the newly renowned steam engine to improve their ship's sailing and turn speeds!
New Weather & Phenomena System
A new category of Discoveries titled "Weather/Phenomena" has been added in the latest Industrial Revolution update. Voyagers, throughout their adventures, may experience various phenomena such as large belt shaped clouds, fireballs erupting from the ocean, or even the beauty of light emitting from the creatures inhabiting the area.
Aide Fleet & Unions
Companies are now able to dispatch an Aide Fleet to different places around the world. With the contribution of various Aides of the company members, dispatched Aide Fleets will help Aides grow and everything obtained from the dispatch location will be accumulated as Regional Contribution at the Company Administration Office. In addition to Aide Fleets, players are able to join Unions who focus on certain interests. Players can join specific Unions matching their interests and play-style, to acquire benefits in enhancing their progression and playing experience.
Many More New Additions!
Everything's been revolutionized and the changes are endless! Players can also expect a variety of new items, gears, ship enhancements, skills, a level cap increase, and more!
Basic Starter Package for New Voyagers!
We welcome all newcomers to the age of innovation and change, as all new players who redeem the keycode: xanrJdmh on the OGPlanet website will receive a complimentary Beginner's Box to help them get started in the world of Uncharted Waters Online.
Next Article
Yesterday we learned about a new PVP mode on the way to Bless Online, the 70v70 Siege of Castra!
by Ragachak
PLAYWITH Interactive is proud to announce the launch date for their buy-to-play MMO - November 28th.
by Ragachak
This is an interesting thing to review because I haven't used speakers on my PC in such a very long time.
by Ragachak