Trove Mantle of Power Expansion Head Start Now Available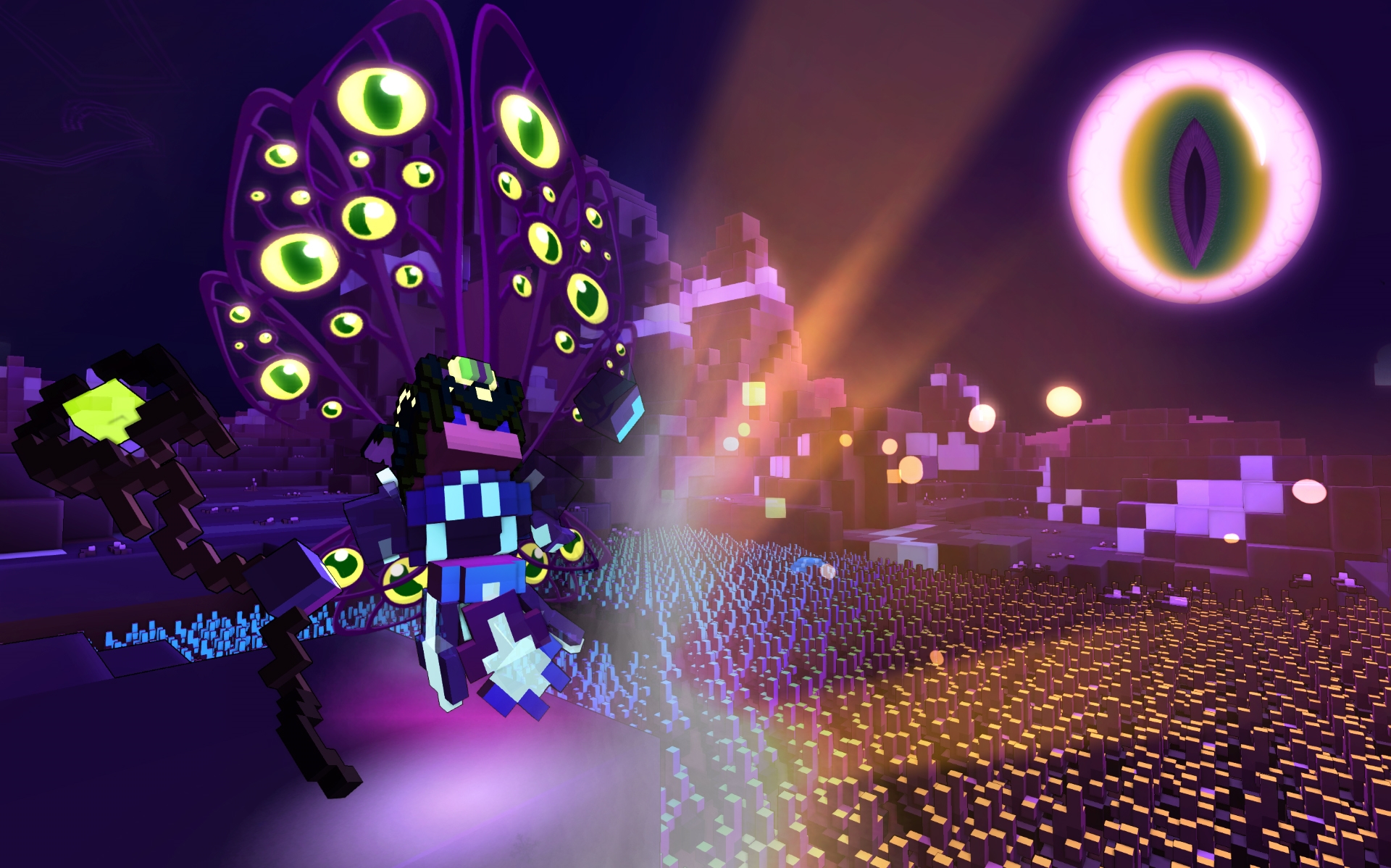 Trove, Trion Worlds' pioneering Voxel MMORPG today introduces its first major expansion with the launch of Mantle of Power. The new expansion builds on several of the most popular aspects of the game – class-building, combat, and exploration – while also enabling players to enhance the power and abilities of each character class. The Mantle of Power expansion is free to all players beginning on April 26; a head start that kicks off today gives players the option to pre-purchase a Mantle of Power bundle to gain access to the expansion immediately.
"This new expansion delivers on the biggest request from existing Trove players: greater depth of play – particularly in terms of character progression, with new levels, abilities, gems and more," said Andrew Krausnick, executive producer of Trove at Trion Worlds. "A big part of Trove's appeal is exploring endless worlds and building your character to tackle the challenges within. This expansion was designed to increase the game's overall geography, further level up characters, and equip characters in new and exciting ways."
The biggest new features in Mantle of Power include:
Level Cap Increase: The new level cap of 30 (up from 20) gives players a 50% increase in levels for all 14 classes. Combined with the vast new worlds, a huge collection of new enemies, and tons of new loot, the Mantle of Power offers a huge amount of flexibility in how to level up.
Augmented Abilities and Powers: Players now have the ability to acquire gems that upgrade and augment the abilities of each of Trove's classes. For example, when augmented with gems, the Candy Barbarian can pull their foes to them before attacking, and the Boomeranger can throw a bomb that spawns angry chickens to attack their foes. There are options for all types of players.
New Worlds: four new sprawling realms to explore, from water and lava worlds to sky worlds. And most treacherous of them all is the Shadow World, a new extra-dangerous realm with frequent invasions of extra-dangerous monsters, but the rewards are worth it. These new worlds bring brutal new enemies to face so bringing friends is advised — there's safety in numbers.
Leaderboards: the addition of regional leaderboards lets players see how they stack up in a wide range of categories like quests completed, enemies killed, blocks created/destroyed and their power within any of the 14 classes or even in total. The leaderboards are designed to expand and grow as the game grows, allowing for the addition of new categories at any time. Players will also face off in weekly leaderboard contests to top of the charts and unlock amazing loot.
Next Article
In Brawl of Ages, you build a deck of 10 cards. They give you cards to start with, and thankfully, most of those cards are not terrible.
by Ragachak
Ever wondered if you can make real money gambling in MMOs? Let's take a look at your options for virtual gambling and some alternatives.
by JFogerty