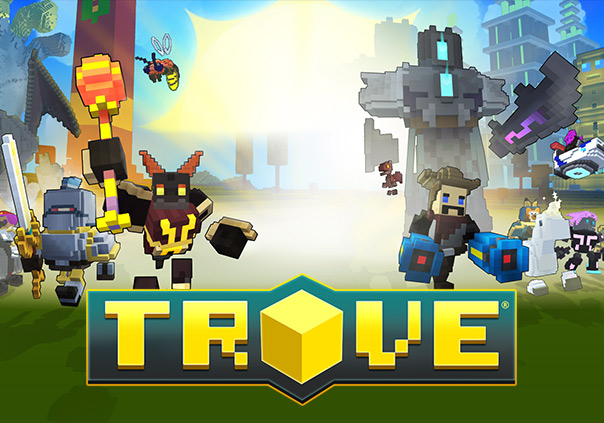 Trove is a voxel-based adventure MMORPG from Trion available on PS4, Xbox One, and Steam for PC and Mac. With deep dungeons to explore, massive realms to adventure throughout, and tons of in-game systems like fishing, farming, flying, and crafting Trove is sure to please the hardiest of adventurers.
Features
►In the same style as Minecraft, players can break down the world into resources and reuse these resources to build not only their own worlds and homes, but to craft gear.
►Quests send players into worlds that disappear or renew as time goes on. Players may also contribute to content via the creation system.
►Players can easily swap classes and abilities to adapt to ever-changing worlds.
Classes:
Vanguardian, Dino Tamer, Chloromancer, The Revenant, Lunar Lancer, Tomb Raiser, Boomeranger, Pirate Captain, Shadow Hunter, Ice Sage, Candy Barbarian, Neon Ninja, Dracolyte, Fae Trickster, Gunslinger, Knight
Expansions
Trove Geode introduced a new world, and a new Battle Royale mode.
Microtransactions
Buy costumes, companions, materials, premium account, in game currency, loot boxes, and more.
Status: Released
Release Date: Jul 01, 2015
Business Model: Free to Play
Developer: Trion Worlds
Publisher: Trion Worlds
Category:

Stand-alone

Genre(s):

3D, MMO, RPG, Fantasy

Platforms:

PC, Mac, Steam, Xbox One, PS4


Editor's Score: 4/5

Pros:

+Regenerating and random worlds and dungeons.
+Unique classes to choose.
+Player designed items.

Cons:

-Leans towards Pay to Win
Recommended System Requirements:

OS: Windows Vista 32-bit Service Pack 2 or later
CPU: Intel Core i5-2XXX @ 2.0GHz / AMD Phenom II X4 @ 2.6GHz
RAM: 1 GB
GPU: Intel HD Graphics 3000 (integrated) or better
HDD: 1 GB



Description: Ever wished Minecraft was a real, randomly generated MMO that renewed and changed as time went on? Trove wants to make that wish come true.
The Dark Harvest has begun in Ramsgate, and the city has been shrouded in an unrelenting night. With it comes the mysterious cult, The Unseen.
by Ragachak
So, Core Sets are back this year, July 13th, 2018, and for Magic Online, it'll be July 16th.
by Ragachak
Heaven or Hell, Let's Rock! Guilty Gear Xrd REV 2 from ArcSys is coming back to Brave Frontier from May til June.
by Ragachak