SWTOR The Gemini Deception Now Available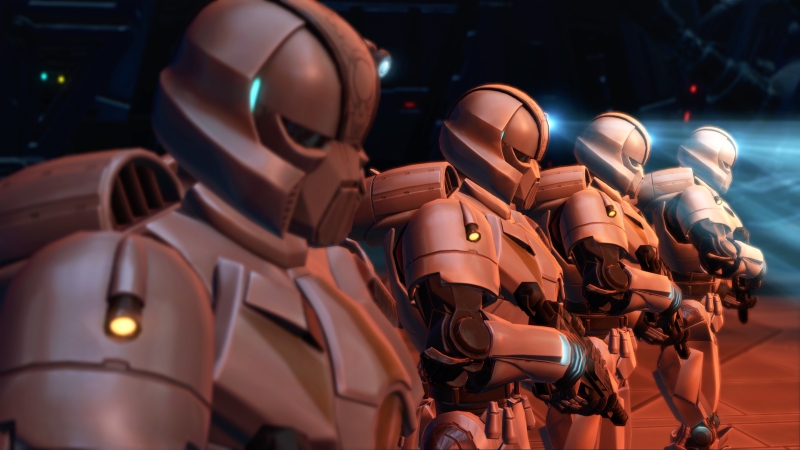 BioWareTM and Lucasfilm today released the next chapter in the episodic storyline of Star WarsTM: The Old RepublicTM – Knights of the Fallen Empire. The GEMINI Deception is available now to all Star Wars: The Old Republic players and raises the stakes as the Outlander prepares for the ultimate showdown.
Lead your Alliance in the epic assault against the Eternal Empire. Alongside the mysterious and deadly Droid SCORPIO, the Outlander's team must infiltrate a Zakuulan warship and face Arcann's formidable force of elite soldiers. When the mission goes awry, the Outlander must find a way out of a deadly trap – only to be faced with a shattering betrayal.
Players can also check out additional gameplay experiences starting this week:
New GEMINI Cartel Pack: Inspired by the latest Chapter, the new 'GEMINI' Cartel Pack offers players the opportunity to get a stunning new GEMINI Pulse Weapon effect plus rare vehicles and armor sets.
Dark vs. Light Event: Battle for control in this new summer event! Earn galactic rewards as your side fights to dominate and change the fate of the galaxy. Are you up for the challenge? Visit www.swtor.com/dark-vs-light to find out more.
Subscribers of Star Wars: The Old Republic can play Knights of the Fallen Empire from Chapter 1 through the current chapter, The GEMINI Deception, for free. Additionally, as part of the Subscriber Rewards Program, those subscribed by July 1 will receive an in-game HK-55 Victory Stronghold Decoration, inspired by the legendary Assassin Droid.
Next Article
Uncharted Waters Online introduces the world to new innovations and change with revolutionized developments, new phenomena, & more.
by MissyS
NGames, a leading online games publisher, is today thrilled to reveal first details of brand new free-to-play horizontal MMORPG, Demon Crusade...
by Mikedot