Star Trek Online's 'Mirror of Discovery' Arrives on Console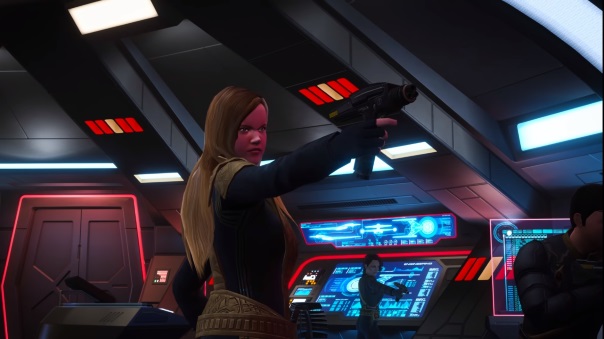 Perfect World Entertainment announced today that the latest Star Trek Online update, "Mirror of Discovery" has launched on console. PS4 and Xbox One users can play this update for free and uncover the fate of the Terran Empire's Captain Killy – voiced by Mary Wiseman – from the CBS television series Star Trek: Discovery. In true Star Trek Online fashion, Mirror of Discovery expands on a pivotal story that was briefly touched on in Star Trek: Discovery. Captain Killy was introduced during the show's first season when the crew of the U.S.S. Discovery crossed paths with the Terran Empire and first learned of the cruel Mirror version of Starfleet's Sylvia Tilly. Captain Killy slaughtered her way into the Captain's position and it was assumed that the Klingons destroyed her starship. However, the fate of Pahvo now lies in the hands of the Federation, who must stop her and her crew from annihilating the planet.
Mirror of Discovery Features:
Two New Featured Episodes – Captains hailing from all of the game's various factions can experience two new playable episodes featuring Captain Sylvia Tilly of the Terran Empire.

"Para Pacem" – Players will witness the I.S.S. Discovery's fated confrontation with Klingon forces, in the middle of an ion storm above Pahvo.
"Illusion of Communication" – Captains must stop Captain Killy from using Terran Empire technology to manipulate Pahvo's peaceful biosphere.

Anniversary Events – Star Trek Online celebrates nine years of exploring the Star Trek universe from within by bringing back the popular Omega Molecule Stabilization event. Players who stabilize Q's scattered Omega particles can earn free Omega Particle Tech Upgrades and prize vouchers, redeemable for the new T6 Vulcan Scout Ship featured in Star Trek: Discovery.
Battle at the Binary Stars – By popular demand, the Battle at the Binary Stars Event is now available as a Task Force Operation, with the debut of Advanced and Elite modes that will challenge even the most experienced players.
SG Interactive has launched Grand Chase: Rebirth today, initiating the fifth season for the brawler MMO.
by MissyS
Black Eye Games has pushed their indie sandbox fighter, Gloria Victis, onto the Steam Store's Greenlight and landed in the top 100 in the...
by DizzyPW
In a rather surprising turn of events Riot has revealed their first ever dual champion release with Rakan and his lover Xayah.
by Kings Decree