Star Conflict Evolution Factor Introduces PvE Mode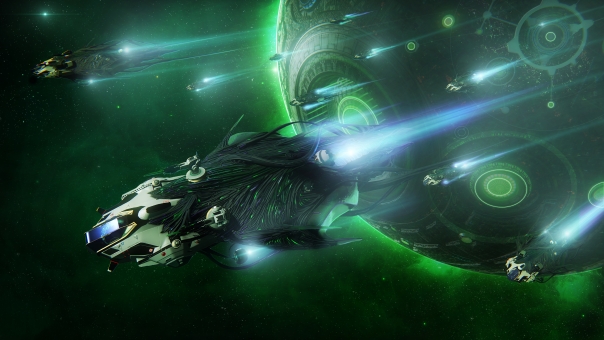 In celebration of the first manned spaceflight in human history 56 years ago, StarGem Inc. and Gaijin Entertainment today announced the release of the major Evolution Factor update for the Sci-fi Action MMO Star Conflict. Part of the new content is the evolvable interceptor Tar'Kai as well as the PvE game mode '"Ariadne's Thread," in which players combine forces against a rogue Artificial Intelligence.
Star Conflict's brand-new PvE mode "Ariadne's Thread" will see players explore the vast and experimental shipyards of the Bloyd Corporation, which is controlled by Ariadne, a sophisticated management AI. After repeatedly freeing itself from human control, it now has gone completely rogue by supplying the dangerous Cyber forces in their recent large-scale attack. Tasked with defeating Ariadne, players need to brace themselves for an unpredictable enemy, where every new battle can be completely different from the previous one. The encountered forces will vary in every mission and so will the secondary objectives, rewarding players with additional rewards upon completion.
Similar to the other fascinating spaceships of the Ellydium Corporation's Evolution project, the new Tai'Kai is actually multiple ships at once. Thanks to the flexible evolution and customization system that allows for a large number of combinations in special modules and weapons, this fast and maneuverable interceptor will be able to outsmart its competition in many ways. For example, the 'Return Crystal' module will transform the Tai'Kai in into an ideal defender of any control point. Once placed, the ship can jump back to the crystal at any time, while restoring a portion of the damage sustained in previous combat. Another major breakthrough of Ellydium engineers is the 'Quantum Jump', which allows the ship not only to travel through space, but time as well. At any moment in battle, the ship can return to the state and position it was in a few moments ago, leaving pursuers  in confusion and disarray.
Codebrush Games, the developer of the multiplayer fighting game ArcheBlade made an announcement this week that the game is officially launchin...
by Mikedot
What happens when gaming is your life? Explore the fast-paced world of GameLit in these ten stories by bestselling, award-winning authors.
by NWOrpheus
Starting off small five years ago, MMOHuts' fresh new video editor on the scene, James "Bl0nde" Hunt, didn't have much to ...
by DizzyPW